By the time we were checking out University cafeteria in Laramie, Wyoming...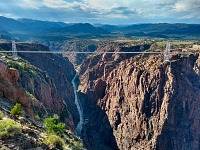 Sid was returning from Texas, and stopped at Royal Gorge near Cañon City, Colorado.
We had moved to Wyoming with two children — and now everything is different; kids are no longer kids and suddenly are preparing to jump out of their nest. On Sunday August 14, Tom moved to his University dormitory. He was lucky that Sid was still on his business trip to Texas, otherwise we would have arrived to the college in full family strength. This way there were "only" three of us. Tom and Lisa took the Wagon, so that Tom would be left with a car in Laramie, and I trailed them in our bus — our means for me and Lisa to get back home.
The university gave Tom instructions where to arrive and where to park — we had planned that I would park our bus at a stadium and we would take only one vehicle to the dorms, for we expected many more cars there and confusion all around. We were wrong only in the order of magnitude of how many cars and subsequently how much chaos there would be at the dorms — we spent about forty minutes jumping in a line just to the entrance to the dorm parking — where we dithered some more, looking for a vacated spot. All freshmen were moving into the dorms, and those from more distant places were bringing in all their wardrobes and supplies for the rest of the year — including cabinets, refrigerators and sports gear. Tom had packed one large bag, two carry-ons, and a backpack — counting on bringing in things later as the need arises. His room-mate had planned to arrive with a small fridge and a microwave, which saved us moving appliances. Had we parked both cars at the stadium and walked the rest, we would have reached the dorms much faster than spending time in the line for a complicated parking. Well, we're educated for the next time.
From the moment we managed to find the parking sport though, everything went smoothly. Students picked up their cards and proceeded with them to arrange their accommodation, food and optional parking permits. The actual moving-in looked frightful, but again — the university has apparently had some experience with it. A twelve-story dorm with three elevators had each of them manned by a human operator, and each elevator would only go to four designated levels — crowds immediately shrunk to a third and the lift "attendants" made sure everything kept moving.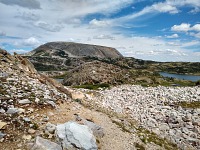 We are getting used to a life without kids — trip to Medicine Bow.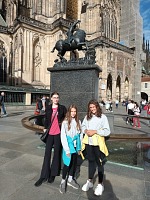 Lisa, Oli and Elsa at Prague Castle.
We had heard many horror stories about the twelfth floor, but alas, freshmen cannot pick their places. On the other hand, Tom can now boast that he lives on the highest floor of the tallest building in Wyoming. And though he had complained in August about his room being too hot, I'm sure in winter he will appreciate the little bit of extra warmth.
Lisa and I wanted to leave Tom to his devices and wait for his room-mate Maddox (he planned to help Maddox with moving in the fridge and microwave, but Maddox came accompanied by both parents, and they handled it without help), and we thought of going to have a decent lunch in a restaurant, but our favorite place was closed — so in the end we returned, fetched Tom, and went together to have a meal at the cafeteria. The place is huge, modern, with various self-serve stations to pick from (including a gluten-free one!) — even with desserts and ice-cream. We returned to the room, met the parents of Tom's room-mate, and I swapped phone numbers with the mother just in case — and it was time for me and Lisa to head back home.
At first it was rather strange, only three of us living at home. Tom had planned to come back for the weekend and pack more things that we either forgot or did not want to bring in earlier (like, a desk lamp), but events of their orientation week stretched into the weekend. Later, fortunately, their schedule had settled and Tom began showing up and eating at home regularly. Occasionally he arrives in the middle of the week — when he forgets to pack something or suddenly discovers that he needs a suit or winter jacket.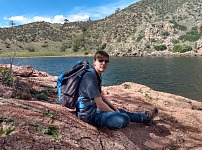 Stop at Crystal Lake on the way back to the university.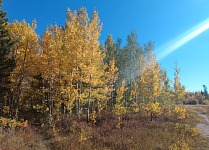 Fall colors at Lake Owen.
Not to get limited to one fledgling leaving the nest, Lisa had decided to travel to Czechia. It seemed reasonable to use an opportunity when grandma was in a good shape, weather did not yet enter the phase of autumn sleet, and Lisa did not yet need to deal with college applications. Thus we urgently sought plane tickets and paperwork (Lisa not being of age) and adjusted plans. Besides meeting our family, I decided to use Lisa's trip to delegating her to a reading and book signing of old camp friend Adam Suchý, who just published a novella. We also wanted to grant Lisa some chance to travel farther in Europe, and arranged a visit with our friend Pepe in Vienna, Austria. Here in America, Lisa drives a car and works at a job since age fifteen — but actually has never before traveled on a train by herself — becoming independent happens in a different sequence on each side of the Atlantic. I find that in Europe, everything has to wait until one is eighteen — including cars and job opportunities. In the USA you won't get served beer until twenty-one, but you can take care of yourself much sooner than at eighteen.
After Lisa's departure, Sid and I were left alone. After almost nineteen years we found ourselves in our home without a single child! Thanks to practical non-existence of full-time summer-camps here, and since our grand-parents have not been available, we could never send the kids off, not even for a weekend. A few times we left our children at home with granny (when she still could travel and visit) and went off on our own, but a home without children was a new thing for us. Well, we must get used to it — within a year, most likely Lisa as well would move to a college, and we will remain alone...
This year's fall, possibly thanks to La Niña, turned out quite well — beautiful warm days without sleet meant colorful foliage, and so we ventured to various outings — when Tom was home for the weekend, we drove up to somewhere near Vedauwoo with him, from whence he could head more west to his college, and we went back home, eastward. While returning from one such trip, we spotted a huge black moose near the road, and we stopped and took pictures — in bad dusky light pictured did not turn out so great, but it was an encounter for us.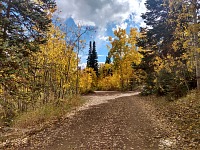 Start of my hike through my ski area looked easy.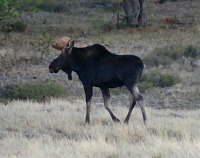 Running into a moose in their heat season was not very pleasant.
A week later, only Sid and I went on one such trip. He dropped me off at my cross-country skiing area, and drove off to fly his drone somewhere else. I was looking forward to hiking over my familiar routes, enjoying the autumn forest, with a motto "I had been zig-zagging this place for two winters and can never get lost". Well, I was not technically lost, but I found it horribly unfair that summer biking trails don't copy the winter skiing routes. I further expected that skiing thoroughfares sport, under the snow, roads or forest paths — quite a mistake — they are established across inconspicuous meadows and clearings. I was terribly relieved when my — completely unfamiliar to me — biking trail reached a meadow with a lone tree that I remember very well — the tree is my nightmare, for it is found under a very frequented and therefore often icy downhill, where I always pray that I manage to avoid it.
Now that I finally ran into my desired forest road that I knew from skiing and of which I knew to take me into the valley where Sid was supposed to pick me up, I told myself that everything was fine. Thus marching through the woods, I spotted a movement, in the corner of my eye. Looking more carefully, I almost had to change my underwear — a black apparition with white antlers hovered in the golden autumn forest. It crossed my path and disappeared on the other side, heading to the valley where I too was headed. Moose are solitary, so one can expect it to be the same individual that we had seen earlier this year close to a highway. They can be up to 1,300 pounds, and this specimen did not make it seem unlikely. And it was October, when one cannot expect much rational behavior from a hormonally derailed wild cow.
Given the fact that the moose moved through the woods without making a sound, it was obvious that should our paths cross again, it would be without another warning. Thus I concluded that it was up to me to avoid surprising or spooking the moose. I chose a longer route across a clearing rather than a shortcut through the woods — and for the rest of my hike I sang to myself. So either the moose walked off somewhere completely else — or my singing is rather repulsive — but I did not meet it again. Still it was a good reminder of our living in a place where there are still more wild animals than members of homo sapiens, and that we should be ready for various encounters.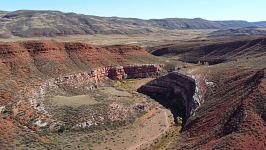 Bent Rock from a drone.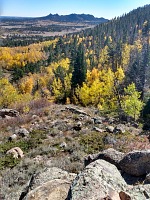 Twin Peaks.
On one weekend, we chose a local, very civilized city park — that was when I finally resolved to check out my wheely-skis. I had ordered them with the start of summer, but then I started my job and on top of that it was always hot, and they laid in our living room. You see — wheeled cross-country skis fit my ski boots — which are WINTER boots and therefore quite warm, which is sub-optimal in ninety degrees. Also, with wheely-skis, you are limited to asphalt or concrete pavements — no falling into a snow cushion, but nice and hard, with a real risk of a road rash — thus I wanted to wear trousers and long sleeves, over which I put protectors on knees and elbows. And a helmet. Again — summer heat is a bit impractical for such battle dress.
When colder weather finally arrived, I talked Tom and Sid into taking me to the city park — so that there'd be someone handy who would possibly pick me up from the pavement and take me back home or to a hospital. Wheely-skis appear to be a sport for the whole family — my chaps were busting their guts laughing — but more importantly — they ran with me to stay where all that fun was happening. I have not seen Sid running perhaps over the course of our whole marriage! Yet this test run had shown that on these wheely-skis, I shall be quite limited by the terrain — concrete paths are best, even blacktop is too irregular and on a coarser finish (a regular street) the wheels get stuck — for they're too small. I am also unsure whether braking is even possible on this, which clips my wings — after all, one is afraid to pick up speed not knowing if stopping is available. Fortunately there are several concrete trails in Cheyenne, not to speak of a extensive network along Cache la Poudre River in Colorado, quite near to where Lisa vaults. Unlike with a bicycle, wheely-skis can be simply tossed in the car trunk, and stay at my disposal anytime.
In October I found an advert in 4-H emails (where e.g. Tom used to attend his shooting club), offering three young chickens. Our chickens are in molt again and stopped laying eggs, and they are old, so I was anyway planning to get new chicks in the spring and rejuvenate our flock a bit. Now there was an opportunity to get three chickens that were already nurtured up from the worst age to the point where they lay eggs unproblematically. I did not hesitate and quickly signed up. On Saturday I drove back home with three beautiful chickens.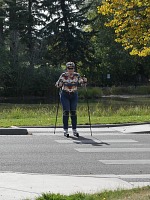 Wheely-skis.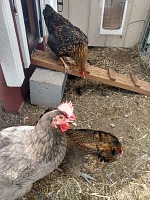 Cinderellas.
The funny thing is, the largest new chicken is big and gray — and very similar to our black australorp Jet. Spotted wyandott looks again like a brown version of our Pepper. And a bashful ameraucana would be a spitting image of our Sasha — only in brown instead of black. It looks like the same set, only in a different hue. You must understand that I simply had to send Lisa (who was in Czech Republic at the time) a picture of a gray chicken with a note that our Jet has somehow faded out.
New chickens are very domesticated, I would dare to say, cuddly. Tom named the gray one Cinderella and the bashful Ameraucauna Rosary. Spotted one kept her original name — Toad — which she had obtained as a little chick for jumping out of a box and running away. She made her point after a move to our coop, from where she jumped / flew out — not that I would not understand her longing for freedom and from being closed up in a relatively small space — but the chickens were closed to prevent our old chickens from messing them up. Bringing together two flocks is not easy at all — our original, spoiled chickens certainly did not want to relinquish their exclusive perks.
Now that my children have left the nest, I have replaced them with fowl — worries about chicken gang violence and bullying were piling up. I started calling the new chickens as a group, Cinderellas — they are my little chicks, doing all the work (making eggs) and their older sisters are mean to them. I feel sometimes sorry for my Cinderellas — but they are very sociable, follow me around everywhere, thus giving me opportunities to sneak them some goodie or give them a consolation prize in the shape of a trip to the compost.
We have finally got a window that OPENS!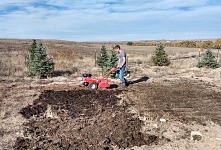 Ploughman.
I must have been very bored, because we began a reconstruction of our bathroom right then. Our master bathroom used to have, besides a shower stall, a huge, triangular, corner bathtub, with a fixed matte window over one short side. We had tried to replace the window for one that could be opened, but then we docilely returned to the original window — because it was not very practical to have to step into the bathtub every time you wanted to open or close the window. We scoured the outlets over winter, looking for a window that would not require climbing into the tub — and found none. Hence we now decided to get rid of the bathtub. For the two year of living in our new house, we have never used the tub — not counting an attempt to rinse our laundry during a brief period before our automatic washer arrived. Even that I tried just once — the tub was huge, took forever to fill, and even for laundry rinsing it was much easier to use a standard bathtub in our guest bathroom. Now the area freed after the tub will fit a laundry basket, a thrash bin, some shelves for towels — and we can have a regular window that opens and consequently VENTS the bathroom.
On the twentieth of October I set out to Denver Airport to pick up Lisa. Since we left California I grew unaccustomed to freeway traffic jams, so I found myself unpleasantly surprised by a situation on approach to the metropolis — but it worked out OK, I even got to wait for Lisa; about three minutes. Tom subsequently showed up for the weekend and we celebrated his nineteenth birthday. This, however, only after he worked it off — having excess of energy, I borrowed Bryan's motorized plough and hitched Tom into plowing in compost into a new stretch of an eroded section of our property, to plant the fall batch of my triffids. I must say that the plough turned out to be very useful — what I spent several day doing by hand in the spring, Tom and I finished before noon.
I hope that our family circle celebration has compensated for Tom's forced labor on the plantation and that he would continue returning home — it would be great to have all the fledglings back at the nest again.