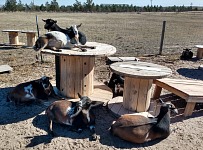 One day the goaties sunbathe...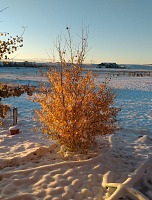 ...and two days later we get snow.
Since I was extolling the advantages of adult offspring, I will have you know that some things don't change with adulthood. I was under a misapprehension that we have long extricated ourselves from scholastic sniveling and that we no longer need to fear what next will the kids drag home from the collective. Well, about that — a strep throat swept through the University, dorms and classrooms, of which Tom could not deprive us. Most of November we thus experienced in various phases of illness, cough, and antibiotics intake. Still, I should not solely place the blame on Tom and his University — besides the college, our town of Cheyenne went down too. HVAC people canceled their maintenance visit, as all their technicians got ill. When we tried to make an appointment with our regular clinic, they told us that they had run out of strep tests and that we should go to Urgent Care.
Thanks to our chain-like sickening, we had only peripherally noticed affairs like first winter storms and snow. While recovering, I took Tom out to check out our cross-country ski terrains and its snow cover. Poor Tom, who normally runs ahead of me there, was merely crawling. At least we went just walking and could foreshorten our route across clearings in the woods.
Sid and I set out on a hike in Curt Gowdy, which we had to abort after about thirty minutes — so bad was the wind that we could not tolerate it. And not to waste a considerable drive, we stopped for a lunch in a diner named Bunkhouse in a hamlet of Gilchrist. A nice surprise awaited us there — not only is it a pub with an atmosphere and good beer, but on Sundays a few locals get together and jam on guitars — and sometimes other instruments, whatever they bring. For us it's a nostalgic reminiscence of our youth, where on weekend trips and camps people would play like that.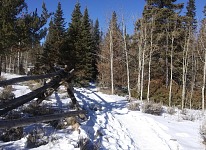 Forest held on to some of the snow.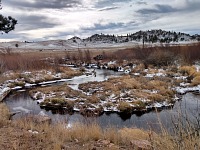 On the high elevation plains the wind was so severe, we could not tolerate it.
Right before our family strep throat felled me, I managed to quit at my old work. Such decisions are never easy, but this one was overdue. The tide of summer tourists had receded, and with a worsening economic situation of a small business in a small community, some interpersonal relations began to spark. With the advent of winter weather it started to be somewhat doubtful whether I would always be able to get to my workplace. Twenty miles when taking a shortcut over a dirt road, or thirty, if I take regular paved roads, can simply become a problem in bad weather — especially if I take the shortcut and find it impassable; then I must return back to our house and take a detour. So I figure it all rose to the level of bad deal and that I would take it easy until Christmas, enjoying the holidays.
Instead of holiday joy I ended up sick in my bed — and when I got better, I started going through job openings on the 'webs. With the effect that right after Thanksgiving I started in a restaurant of a national chain. There are advantages, for it's a large company, most shifts are under six hours, the place opens no sooner than 10 a.m. (so I have time to take care of my animals) and is mostly very busy, with no boring dead time — given the number of employees shifts can be negotiated quite flexibly — it's no problem to swap one shift for another, cancel or take one extra — as one needs at the moment. And it's located in Cheyenne, in THE CITY, with maintained and ploughed roads. And I can also on my way to or from work take care of errands at offices and banks, do some shopping, or go swim or yoga — I simply stay in civilized parts.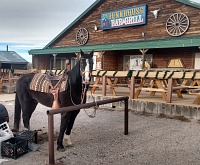 Parking in front of our favorite pub.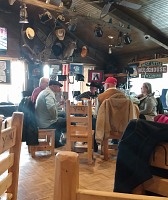 Locals jam like this on Sundays at this pub.
Having made my first attempt in a small restaurant in a small town, I gained the advantage in the shape of a very accurate idea how a business like that operates — what happens in the kitchen and behind the scenes, what are the hygiene standards for cooking, storing, cleaning, cleanliness in general — simply all that precedes the moment when a server plops your plate down on your table. The greatest obstacle was (and still is) a computerized ordering system. Pushing icons on a screen is certainly simpler than scribbling things down on a paper ticket and subsequent decoding the same — yet icons that describe orders in acronyms meant for me in practice having to learn a whole new language. Consider, does BS-S CHX SHMP look like something that you would eat for lunch? All the while, like in every language, there are exceptions on top of other deviations, and wading through five levels of menu branches, while you don't really know what to look for, is relatively nerve-wrecking. My only solace is watching my experienced colleagues desperately poke the terminal and quietly curse it — it's not just my incompetence; we all fight with it sometimes.
On the home front we have noted two improvements — in November we finally received a new garage door. We suspect that our house had served as a demo model — and as such many things in it were built only for show. So the garage had the cheapest door, which would serve quite well perhaps in California, but not in Wyoming. When your garage freezes in winter, the door is obviously not working as required and your car pool suffers. We simply keep discovering and improving everything where the original builders had cut corners and "saved".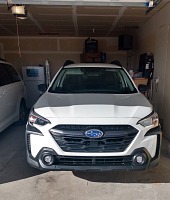 New car.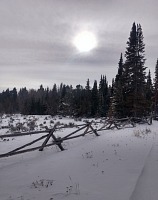 Ready for cross-country skiing.
A much more substantial change came in the beginning of December — our new car, ordered some time back in August, has arrived. Car market has gone as bad as we remember is from a socialist regime in our old country — you order, then you wait, and hope. As Tom had taken our old Subaru (model 2005, with some 240 thousand miles) to the University, it was mostly me who suffered the loss of a universal vehicle. Lisa drives with Horace the revenant — a car purchased for children to learn driving on something that would not be a disaster to lose by wrapping it around a post or ditching somewhere. Sid and I were left with the choice of a Toyota minivan (model 2017, approaching 130 thousand miles) and a truck F-150 (model 2010, 120 thousand miles). Theoretically two cars for two people should be quite enough — but we had bought the pickup mostly for the covered load bed to move hay and animals and construction materials — and it guzzles awfully. On top of that it's an excessively large and powerful vehicle to simply run errands with it in the city, or to commute. Minivan used to be great in California, but it's somewhat sub-optimal for Wyoming winters. For a half year we had looked for a small used car with a four-wheel drive, but all we could get were lemons of Horace's class, or about one year old luxury models (here I would like to point out that moon-roofs are especially practical in Wyoming with its hailstorms, snow and hurricane grade winds). Those used high-end models were being sold about 30% above the price of a NEW base model Subaru.
It became obvious that a new car would be the easier path to take. But even that did not come without surprise moments. Like finding out that the Subaru dealer in Cheyenne would be perhaps willing to order such car, but for a price several thousands of dollars higher than the same car ordered in Casper (Wyoming), or in Fort Collins (Colorado). We agreed that a few thousand dollars quite paid for an eventual one-day trip, and ordered in Casper. Car was supposed to show up in November, came on December 7, but at least it did.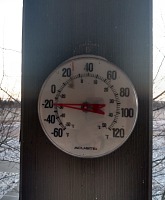 Our sun-side porch is minus twenty.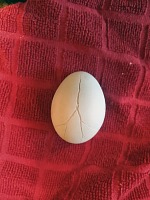 A frozen egg.
On December 8 we had to update our Casper trip plans — web-cams from the interstate clearly showed that the last stretch sported snow cleared from only one lane, and that wind was driving snow across, forming banks — instead of our minivan, we had to switch to Ford. We covered those hundred seventy miles without a major drama, and began the process of car purchase paperwork. This we finished by one o'clock, just in time that I could jump in our new car and drive quickly back to start my afternoon shift.
I must be getting old, but most modern features in a car piss me off. For sure I have no use for an insistent weather forecast for Washington DC on my dashboard, neither I need my car to wrestle the steering wheel from my hands every time its brain-dead computer perceives that some line on the pavement got too close. Automatic turning the engine off on every stop sign may save 0.1% of gas, but not the battery and my nerves. Fortunately, most of these "driver assistances" can be disabled. What irks me most is that such bullshit features get installed in every model — and then practical things don't — like integrated garage door opener, seat heaters (which our old Subaru still had, despite being base model), or electric drive seat adjustment. Such "luxury accessories" are only available in the case we would pony up for leather seats — which we summarily hate. In the end, we will have to make do somehow. Of the present new things, I find backing camera most practical — not because I could not back into our garage with just a rear view mirror (I don't know how to back with a camera; it confuses me) — but I like to see what I'm backing into — and I'm less likely to run over someone's dog or a small child, or to gut the car with some low post or curb — simply those things that you can't see in the mirror at all.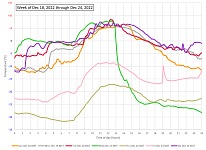 Temperature charts of the week before Christmas.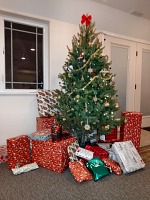 Christmas.
My feeling of freedom is the most important — I can again drive when I want and where I want — without complicated planning and contemplating whether Lisa would be able to drive to work, Tom to his college, and Sid to a dentist and so. This way I could pack my skis and check out Snowy Range, and when Polar Express arrived before Christmas, I did not have to get nervous whether and how I get to my work.
Our friend forecaster Don Day had warned in his predictions that cold would arrive like an express train, and to be prepared. I heeded his advice and on Wednesday 21st I got my goaties and chickens ready for arctic winter. I felt rather silly, for at eleven thirty when I sealed all gaps in the shed, closed the coop (so that the chickens stayed in the shed together with the goats, in relative warmth and out of wind) and returned home to lunch, it was sunny outside and forty five degrees. The weather looked like a nice solstice. Before I finished eating and coffee (at twelve thirty), a white wall of snow and frost hit us — temperature dropped to zero. I ran out to close the remaining shed door and turn on the heaters — during those fifteen minutes I was out, it dropped another ten degrees. Our winter solstice was over— sun has disappeared and temperatures dropped at unusual rate.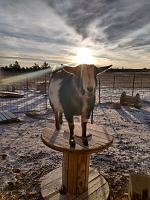 After Christmas even our goats laugh at temperature.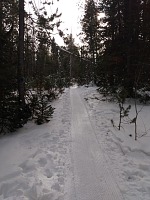 Ski area forest paths received their grooming.
I went to my afternoon work shift with jittery nerves — it had snowed only a few inches, but the wind tossed it so that in some spots I could see nothing at all from the car. They were surprised at work that I even arrived, and it was no problem arranging that I rather go back home while it's possible — and the few guests got served by those employees who lived nearby. I called to Lisa's work, offering her to pick her up, now that I was in town — but she got mad at me, claiming to be able to take care of herself and get home on her own. Naturally, the blizzard receded at that point and both of us got home without a problem, so now I'm the family scaredy-cat and an idiot — and apparently I did not have to drop my shift.
On Thursday at seven thirty in the morning, it was minus twenty five degrees (F) outside. Animals were sour and demanded that I immediately fix it, for this was not the care they had expected. But what could I do? Thus I became a purveyor of hot water, dragging bucketfuls to the shed every two hours, so that all could drink. Despite all my effort and crowding of animals, it was around zero (F) in the shed. Rosie laid an egg into a cold corner — it froze and cracked up.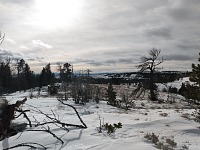 A view from skis.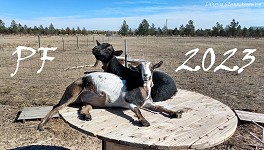 Happy New Year 2023.
With the sun shining again, it was much more fun driving to work than in a blizzard, despite the freezing cold — with an outlook to Friday getting much nicer and warmer (up to +9°F). Even my goaties welcomed their morning two degrees and demanded to go outside. I thought that I would open the shed by noon, when things get warmer, but Twilight ran out of the shed to the sun and refused to get back — and so they were open all day. The advantage of the dry, continental climate is, weather keeps changing — and so this storm, which caused calamity on East Coast and stopped normal life for several days, lasted here only two days — and the dangerous phase with snow and blizzard actually only a few hours.
On Christmas Eve was above freezing in the city again. Up on the hill, where I went cross-country skiing, it was still freezing, of course; but no big deal, skiing was rather good and I could run a bit. Christmas time is a demanding season in hospitality industry, and thus I was glad for a day off from work — and for the opportunity to be somewhere else than closed up at work or at home (or as it happens, in the shed). Kids surprised me nicely in the afternoon by getting out of their basement and coming to help with preparations of our traditional potato salad. They also helped with cleaning, especially around our tree and Christmas dinner table. Then Lisa (!) insisted on watching Three hazelnuts for Cinderella (a Czech fairy tale), and thus got all A's from me for Christmas. After all, despite dragging in strep throat from school, maturity of our kids has shown again — and very positively.