Cameron Pass - summer break has started, the summer, not so much.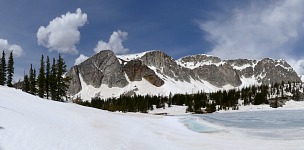 Snowy Range.
Kids' summer break started even before the end of May, which became apparent mostly by Lisa's vaulting suddenly starting at eight in the morning. This complicates my life considerably, for by that time Costco does not yet open, where I would normally spend the two hours of Lisa's practice, performing family supply macro-shopping. Fortunately, Lisa can drive as of this year, so if I can do without said shopping, her vaulting is out of my scope. In a similar fashion, Lisa drives herself to her work — which is great relief compared to
last summer
.
Summer morning practices make mostly sense: to get done with physically demanding affair before it gets horribly hot — yet, this years snow supply by the end of May did not emanate a sense of summer. Wading through snow in Rockies in May is something one expects, but then snow remained in the mountains throughout June, which we tested on our own boots and feet at Mirror Lake. The situation there was very treacherous — some snow-banks one could walk on, but then the next step could lead to hopelessly sinking in to one's waist — apparently depending on where and how sun shined, or whether the bank happened to be undercut by a surreptitious spring stream. My newly purchased hiking boots were of no use in this; I was soaked through.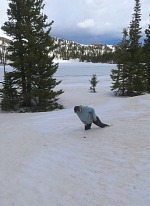 Treacherous snow banks.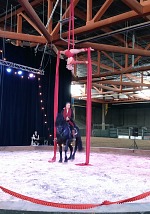 Lisa and I went to see a circus.
We were spending this summer quite separately — our children have reached an age when they come up with their own program and preferences — squelchy trip to Mirror Lake consisted of me and Sid. Circus, which promised horses and silks acrobatics, was something for Lisa and me, for our chaps don't interest in horses and acrobats much. The two of us quite enjoyed it — we both have some prior exposure to training horses and silks, so we could pronounce expert commentaries. There is just one problem that I can see; Lisa again reinforced her conviction that she can run away from home any time, to a circus — she could deliver most of their performances.
I took Tom out to a farewell grilling party with his shooting club — they chose a merciful venue — a state park, where the club paid the entrance fee and organized barbecue at noon — but folks could set out hiking, biking, and kayaking as they preferred. Tom and I have discovered a beautiful trail through cliffs over the reservoir — and then I still managed to borrow a kayak and paddle on the lake. Tom refused because he did not bring a change of clothes — well, his loss; had he listened to his mom, who advised him to pack swim trunks, he could have had one more experience.
And to make my summer more complicated, I found myself a job — our friends have started a
diner
— a classic American restaurant — and needed a cook. Advantages are: flexible shifts, family business, everything is cooked to order from basic ingredients — so the food is good, and offers me opportunity to perform a range of activities — I'm not stuck in one spot, but I alternate between a grill, a stove, fryer, freezer, prep-bench and a pizza oven. It's a small place, so we substitute for each other and cover other jobs and functions. And I return home with a clear head, don't bring my work home — except, in my dreams sometimes pizzas fall from their conveyor to the floor, I get lost inside a huge walk-in freezer, or my meat catches fire on the grill; still it's not the kind of corporate stress.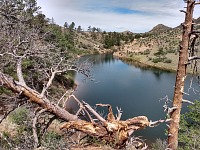 Tom and I at a farewell barbecue of his club, with a hike by the reservoir.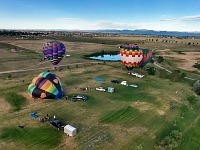 Tom and I also flew in a balloon.
My goaties were mildly cross by this drop in service quality and my attending to them, but their routine got more regular instead. By the end of spring I noticed that Twilight had a considerably filled udder, and when I tried to milk her, I got a cup of milk. Thus I scrutinized goings on in the shed and on the pasture a bit closer — and discovered that the baby goats who are (especially the boys) larger than their mothers, still sneak in to drink. And I had lived throughout the whole winter thinking that they've been weaned off long ago! So I re-established separating the old goats from the young ones for the night, and get a pint of milk every morning for our use. The old goats apparently like this — they have their peace throughout the night, and in the morning can take it easy crunching their breakfast during milking without the need to fight for grains with their muscly offspring. The offspring is a bit less enthused, as they can't snuggle to mamma, but even on their side of the shed there's more peace — since their skirmishes are not compounded by their mothers. My overall impression is, milking gave my goats some sort of meaning of life — they have a "job" and purpose again. And a regular routine. They also tend to be more responsible — several times a day they walk out to pasture — where they fulfill their other important task — keeping the prairie — eating grass and fertilizing the soil.
My family accepted my new job well — for almost two years we had been all "always" at home — so now at least one of us "leaves for work" and relieves the general cabin fever (well, certainly for me). At the time I'm writing this (end of August), I have realized that during my two months of employment so far, I did not once need to clean our home kitchen, I practically did not cook or shop for food. It would seem that we have indeed acquired an amazing house where these "things" happen all by themselves. Fall, when Tom would leave to live in a college dorm, and Lisa will have school beside her job, shall likely be somewhat more complicated. Especially once Sid leaves for another business trip to Texas.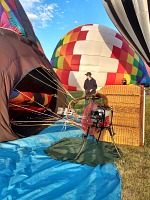 We came to help to Frederick.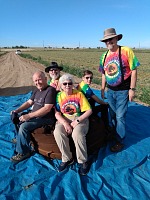 With our pilot Jeanne.
Let's return to the start of the summer break. A ballooning rally took place on the last weekend in June in Frederick, Colorado. Arriving for the occasion, Jeanne and Tom stopped by our place for one night, after which they had accommodation secured by the event organizers. We kept commuting, for it was only one hour drive away and we did not feel it worth the hassle of hotel rooms — not to mention cost.
Tom and I got to fly on Friday; the only excitement came in the shape of a property owner who arrived in person to throw us out, when we wanted to land. Jeanne chose his lot, because it was an unkempt meadow — obviously not growing any crops that we could damage, nor grazing any stock that could be spooked by the balloon. But the geezer has possibly been cooking meth in his basement or something of that sort, and insisted that we stay away. Well, his property, his castle.
Summer continued in a ballooning theme. Due to mine and Lisa's work, only Sid and Tom went ballooning again right the week following Frederick, culminating in Fourth of July. Honestly — it would have been difficult for me to find a caretaker for the goaties during the holidays, and I had moved to Wyoming especially to have room and peace — I was not itching to join other thousand of tourists in the foothills of some of the most famous national parks (Teton and Yellowstone), during the most famous national holiday. I did not even feel regret. On Fourth of July, Lisa and I sat on our porch and watched fireworks by our more festive neighbors, on the background of the large city fireworks, and had our peace. Nature is still the most amazing of them all — storm clouds had gathered on the horizon, darker than summer night — and when they figured humanity with their light show got a bit too uppity, lit up the whole sky with giant lightning, obliterating mere petards into the bucket of children's toys. We managed to watch such theater for a long time.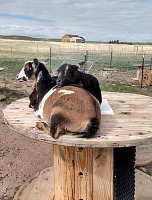 Goaties have it good.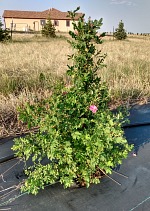 Soon to be a Sleeping Beauty territory.
On the following weekend, kids took off with a gang of friends, to camp in the mountains. Actually — they are no longer kids, Tom is a young adult, and Lisa is just one year short of that age — and they practice leaving the nest ever more frequently. Including the part where they packed everything by themselves for the trip, planned with their friends who would bring what — and drove themselves there. All that was left for me was worrying about them having an accident or doing something stupid. On Sunday, Sid and I ventured into the same vicinity for a hike, hoping that our offspring might join us — but they refused in the end. For some unfathomable reason they prefer silliness with friends of their age over dragging along some mountain trails with old geezers. Young people these days...
They would still not avoid a vacation with old geezers, in particular, their parents. We all went to Riverton in middle of July — ballooning, for a change. We feel a bit sentimental about Riverton — it had triggered our move to Wyoming — in summer 2020, Riverton was one of our options: "and why not Wyoming?". Strangely enough, this feeling is shared in our whole little family, because ALL of us took time off from work and other commitments to be able to go. I had an automatic water dispenser, automatic chicken coop door with a light sensor installed, and issued a whole bale of hay to my goaties — and arranged with Tara that they would come every day and check what's going on in the shed and the coop — and we were ready to go.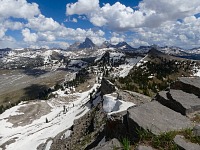 Only Sid and Tom went ballooning under Grand Tetons.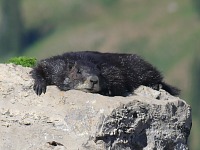 Locals enjoy sunshine.
Our sentimental feelings got reinforced by an apparent fact that this may have been our last organized all-family vacation. On one hand, children show trends to scatter into the world and follow their personal preferences — and on the other hand, despite reassurances of comrade president that there is no inflation, much less recession, our hotel rooms for those three nights were 150% of last year's price — and we're still rolling our eyes. Soon we might have to dust off our tents and sleeping bags, and rediscover wild camping like in our younger days. Which might be a fine adventure, but not quite a vacation, when one must keep packing and searching and organizing.
Balloon-wise, this year's Riverton Rendezvous went splendidly, flying without dramas or problems. A new addition for us was a visit to National Museum of Military Vehicles in Dubois. A private collection turned museum had opened this May, and when we heard praises from all sources, even I assented to check it out. I was mentally resolved to endure a drag across some meadow in summer heat from one tank to the next, and hoped that they sport at least a coffee kiosk (or possibly with something stronger) to get fortified — for it was clear to me that our men are capable of spending hours debating trade-offs and minute differences between individual models.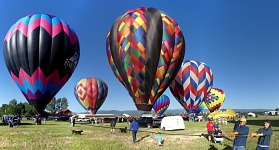 Driggs, ID.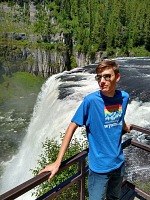 Upper Messa Falls, ID.
As you can see, my expectations were quite moderate. Thus, the greater was my surprise, when we found ourselves inside a huge, air-conditioned, modern building, where the docents were urging us to leave a huge gun vault room near the entrance "for later" — but even so, we managed to view a rifle there that used to belong to Private John Simpson — from which came the first shot in the year 1775 at Bunker Hill, opening the fighting between Americans and the British Army. John Simpson shot too soon, defying the order to "shoot, when you see the white of their eyes", yet for his transgression he was eventually only reprimanded, and lived to see the end of the war and reach a rank of Major. It's interesting that he got never paid for his military service — he claimed that his newly created homeland was too poor to be able to afford paying awards and pensions.
John Simpson lived seventy seven years and was the grandfather of American President Grant, and great-grandfather of the discoverer and cartographer Merriwether Lewis (yes,
that
Lewis of the famous Lewis & Clark expedition).
We watched an introductory video for the whole museum, and then we began weaving through the maze of several miles of displays. It began with vehicles and mechanics of Normandy Invasion, everything documented and thematically ordered. My soul of a history teacher was pleased — besides technical parameters of all that hardware (boring for me), everything was presented in a historical context of the conflicts — and more importantly, political situation and related events that led to the wars. Everything was illustrated by details that I had been unaware of — like, the anti-tank barriers, those I-beams welded together, were called "Czech hedgehogs" — because they were invented in 1930's for planned defense of the Czech border — and Allies had later encountered them on the coast of Normandy — where, during high tide, hedgehogs ripped open bottoms of beaching boats, and during low tide obstructed movement of vehicles.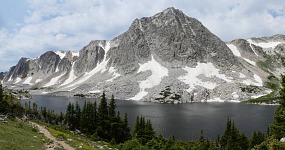 A stop in local mountains, almost no snow left.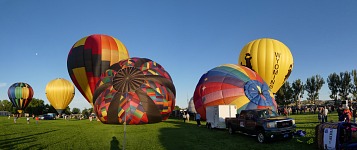 And we're ballooning again, this time in Riverton.
From my communist history textbooks, I had never learned about the Red Ball Express — white flag with a red circle was originally used as signal for admiral's ship, later during transport of VIPs, then to mark railroad cars with perishables. During WW2, Allies advancing eastward through Europe needed supplies for ever extending distances — and thus tens and hundreds trucks traveled through France and farther with food, medical materials, fuel — and munitions. Perhaps I should not be surprised by the erasure of Red Ball Express — it also supplied Patton's Third Army, which, according to official sourced, had never reached Pilsen, and therefore could not need to be supplied.
Unfortunately, while I had thought that after three hours I would be glad they close and I would be able to drag Tom and Sid away, three hours had gone and we were only just passing through the Korean War section, and were forced to simply sweep through the Vietnam section — our consolation is that this museum is not very far and we can make the trip again in the future. I know even less about Korean and Vietnam Wars than I do about WW2, and it would be worth going through these sections again and carefully. An anecdote — in this museum of military conveyances, there was a display dedicated to sergeant Reckless — a mare, who operated in the Korean war as a carrier between front lines and the rear; after learning the route, she could follow it without a human companion, and knew to lie down and find cover in a shootout.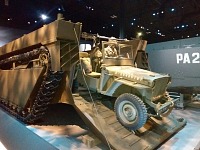 Normandy invasion.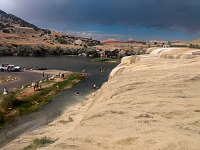 Popular baths at Big Horn River.
But let us leave the museum — on our next vacation day we visited hot springs in Thermopolis — this year there was even less water than the previous year, so the drought is real — when the river bend where one could swim and splash, was now dry, and pools with hot water above the river only trickle down. Still we swam and splashed — and on the following day, after attending to the balloon rally, drove back home, I to enter a crazy week without the lead cook — after a few days of training, suddenly covering the whole kitchen and doing double shifts every day — from seven till one, and then from five to eight. With a half-hour commute it was rather taxing — there at some point I "lost my track" of works on our property — I simply could not keep up both my job and also weeding and cutting. I was glad to not forget turning on the irrigation to our little trees.
After leaving my workplace on Saturday noon, I had to quickly put new sheets on our guest room bed — and Karel with family arrived. Karel is the friend who lends us his house in Estes Park — and we have finally met him in person. And we could send his family into the whirl of Wild West — for Frontier Days were currently happening, which is ten days of rodeos, parades, shows, carnivals, exhibits and programs. I admit that we did not participate — after over-crowded California, I have still not begun to miss bustling people.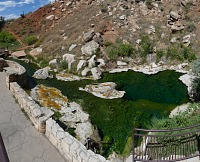 Hot Spring.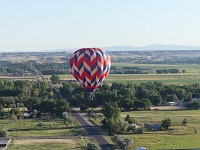 Lisa flew over Riverton this time.
Karel left on Monday morning, and in the afternoon Lisa and I picked up Lisa's Californian friend Lucy at Denver Airport. I have seen a few airports in my life (including those in Asia and South America), but I did not expect such chaos. Road markings around the airport are completely confusing, so Lisa and I found ourselves desperately circling around both terminals (several times), until I gave up, dropped Lisa at one exit, and went to park randomly. It's a miracle we have eventually found Lucy and managed to drive her safely home.
On Wednesday we took Lucy to see Thunderbirds — there was an Air Show at our Air Force Base. Having learned a lesson last year, where we barely made it in, this time we set out early, i.e. ninety minutes before the show start. We arrived with time to spare, so we ventured on foot to see a static helicopter display and stretch our legs. By nine we were told that there's waiting for the morning fog and cloud cover to part, and that the show will be delayed. By then I was somewhat nervous; I was supposed to start by noon at work. Show started by ten, ended after eleven — and for the subsequent ninety minutes we STOOD on the parking lot. It was impossible to leave, for the military failed to organize a departure of several hundreds of civilian cars, loaded with festive, friendly-minded people. I don't wonder any more that leaving Afghanistan was such a mess and disgrace.
At least they texted me from work around eleven that I don't have to come, as it was a slow day.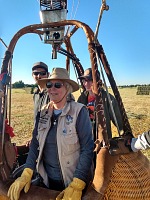 Lisa and Jeanne have landed.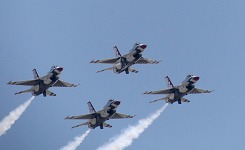 Thunderbirds.
After about an hour of waiting, I got surprised by something like a panic attack — a feeling that I'm trapped (despite being on a huge, mostly open, prairie adjacent to an airport), and that I can't get out. I had to step out of our air-conditioned truck and begin walking those few miles toward the gate — or I would go nuts. In result, this is an event that I will really never attend again — Thunderbirds are beautiful, but for one hour of fighter jets we had to endure six hours of more or less waiting. On top of that, I could have had trouble at work, as it did not occur to me that a one hour show beginning at nine would not let me be at my workplace by noon.
We took turns (as our work and duties changed) taking Lucy to Terry Ranch to see bison, to Vedauwoo, Pine Bluffs — and also to the Snowy Range mountains. Thanks to Lucy we managed to lure Lisa out on this hike, and ended up with altogether three teenagers in mountain tow. Actually — we were the ones dragging behind; teenagers playfully ran ahead and did not show signs of having anything in common with parents huffing and puffing behind. Unfortunately, we did not make it all the way to a saddle between Medicine Bow Peak and Sugarloaf Mountain, for black clouds rolled overhead and thunder sounded — it did not seem rational climbing bald hills at eleven thousand feet in an advancing storm.
On Monday Lisa and I delivered Lucy to the Denver Airport again. This time we managed parking like pros (taking only two runs around it!), but then we could not spot any information regarding her departure — like, whether the flight is on, from which gate, and so on. Lisa claims that somewhere near the parking lot staircase was a sign with the stuff — but no such luck in the main hall. I understand that in our digital age such information can be found on one's phone, but I would still expect some brief and clear notice before would-be passengers thread through the security checkpoint into the innards of the airport.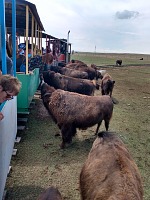 Bison on the ranch.
11 thousand feet above sea level, but storm is coming.
Visit of Lucy, who is a vegetarian, made me realize one local peculiarity — even in that tiny diner in this tiny village, where I cook, we carry gluten free options of our meals; they are relatively common down-town — but I have not seen many vegetarian dishes. I explain it by the fact that at six thousand feet altitude, in a rain shadow of a major mountain range, there's not much room for frivolity. Vegetation period here is approximately ninety days and everything must be irrigated, which creates additional problems (e.g. salting of the soil). Fields must be planted in stripes to prevent Dust Bowl effect, like it happened in Oklahoma in the 1930's. The only thing that grows here without human intervention are grasses in the prairie — which, of course, are not edible for humans — unlike the cows, who thrive on such a meager vegetarian diet without complicated care or supplements — and who enjoy the open spaces. Human vegetarianism in these conditions is a form of luxury.
By Lucy's departure, my summer kind of ended. All cowboys and carnies have left town as well, and I went to work. Colder nights began occurring (which we have all welcomed gladly). Sid went on a business trip to Texas, and the house turned quiet — and all of a sudden, Tom's entry to the University was knocking on the door. School began officially on August 22, but freshmen were moving into their dorms already on Sunday the fourteenth, to be ready to attend a week of orientations without mixing with ALL other students.
A child leaving his home represents for us not just the end of summer break, but the ending of one phase of life. Wish us all good luck.