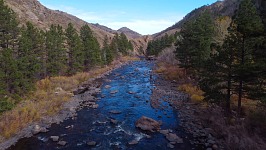 Cache la Poudre River, Colorado.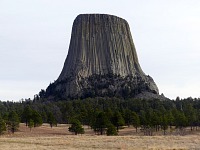 Devil's Tower.
Colder days and nights began in November — but unlike the previous year, when we zig-zagged between snow storms on a trip to get our goaties, we did not get any snow now. Only wind ripped off all the beautiful fall leaves, and landscape lost most color. This, of course, did not prevent us from going on trips, we even dared to go on one spanning two days — to Devil's Tower.
This rock played major role in the movie
Close Encounters of the Third Kind
— where aliens land on it. Scientists more or less agree that it is formed by magma which crystallized before emerging to the surface of Earth — and then softer layers around it eroded away, huge crystals got exposed. American Indians have been clear about it too — the tower grew out of the earth to save people from bears — Arapaho legend mentions a female bear that scored the rock with her claws, when she tried to climb up. Either way, this feature always provoked various fantastic stories of laymen, and curiosity of scientists. I personally side with the Indian version — mighty columns evoke the idea of a cathedral where one can seek shelter (in a Christian context among the columns, here in the nature in safety of the plateau above the columns), rather than some devilish mischief.
Prairie dogs are well fed for the winter.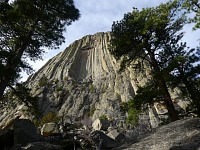 Window in the Tower.
Despite living in the same state, it's almost three hundred miles to this beauty for us — that's, my friends, over four hours by car, so we set out on a Friday, hoping to check the Devil's Tower out in the afternoon, stay overnight, and make another visit in the morning and a different light, or simply return home. After all, it's noticeably more norther lattitude, and November weather is variable at best — and we had to shift our plans already once because of it. Only three of us went, Lisa had to work on Friday.
In the end we made one hike around the Tower on Friday night, and then we could not resist on Saturday morning — it was sunny and the structure of the basalt columns stood out much clearer than on a gloomy evening. We also congratulated ourselves to a visit outside regular season, for we met very few people, and could enjoy an enchanted place without crowds. We made several hundreds of pictures — which, naturally, can't quite capture the true atmosphere of the monument.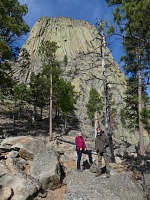 Carol & Tom.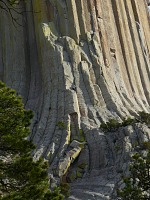 Rock climber for scale.
This year, in November, it has been four hundred years since first Thanksgiving. Back then, of course, holidays, fasts, prayer days — and thanksgivings — got proclaimed routinely and arbitrarily, according to situation in times of disasters, epidemics, wars, harvests, victories — and thus an autumn celebration was nothing special. Yet in the year 1863 President Lincoln declared Thanksgiving a National Holiday, and selected exactly one historic event for a cornerstone of American society. Given the fact that such anniversary got studiously ignored by the mass-media, I became curious, why. After all, at some point in my past life I used to be a history teacher — and I could not leave it be. To my surprise I discovered that this old story remains very relevant for our current lives.
A group of English Puritans set out on a journey to America in the year 1620. After religious purges in England, they tried to live for a few years in Holland, but eventually resolved to start over someplace completely different, and quite their way. In a context of the beginnings of the Thirty Year War (between Catholics and Protestants) it becomes suddenly clear why the Puritans chose to leave a world that began to experience a breakdown of civilization. Even for a price of going into the unknown, literally awaiting a fight for survival. Year 1620 rings a bell for people with Central European background; it's the year of Battle for White Mountain near Prague. The world started to feel very unhealthy for all non-catholics anywhere on European continent, many had to flee for their lives, including exiled Jan Ámos Komenský. To leave surely was not a simple decision — in those times, it was a one-way street, there was no turning back. But unlike Columbus, Conquistadors, gold-diggers and plantation-owners, these people did not seek wealth and power — they left "merely" to be able to live according to their own convictions, without being ostracized for them.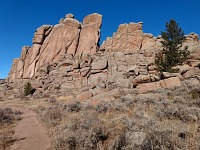 Turrets at Turtle Rock.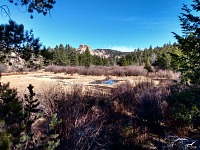 A small meadow.
People of that time began to realize that simply following the religion of their ruler was not enough, despite his frequent justifications that his power comes from God. They wished to live according to their own conscience, be free to practice their faith, and free to control their own life. Even at the price of risking their lives by moving to a wild new continent. Hundred fifty six years later, this concept got ingeniously defined in the Declaration of Independence:
We hold these truths to be self-evident, that all men are created equal, that they are endowed by their Creator with certain unalienable Rights, that among these are Life, Liberty and the pursuit of Happiness.
This "pursuit of happiness" is a tricky idea —
pursuit
is a process, a journey — you have a right to try to be happy in your life. And it's not the luck of winning in a lottery, it's contentment with life, a balance reached. Which can be achieved only by living according one's conscience / faith / universe — again, one should choose own words. Nevertheless, such balance cannot be found in a society that is divided by who attends which church, by wearing mandatory yellow stars, by class origin, skin color, Party membership, Green passport or social credit. In a divided society there will always figure "the others" — unclean, sinful, evil, adverse — simply THEY — and woe to you if you fall under one of those labels yourself — despite never having done anything worse than wanting to live in peace, your own way. You will stop being equal with others, your rights will not match those of others. Suddenly there will be a hunting season on those like you, and your neighbors, former classmates, colleagues — even members of your family — will join the hunt.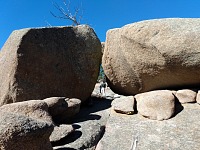 Sid among rocks.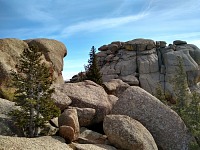 Summit.
But let's go back to Mayflower and the Puritans. Now we understand why they decided to leave a divided Europe on a brink of war. Why the wanted peace and quiet, despite risking personal discomfort and hardship. And they began to sense that hardship was to come. Mayflower set out late — in September — too late for a trip across stormy autumn Atlantic. It was a small miracle that Mayflower eventually crossed the ocean, while only two members of the expedition perished during those more than two months. But that was not the end of trouble — Mayflower did not reach Virginia on 37th parallel, and the established colony there, but only a deserted 42nd parallel, today's Massachusetts. If you feel that European 42nd parallel does not have by far such a bad weather (think Portugal), be aware that it's because Europe enjoys a warm Gulf stream. Massachusetts weather would be closer to Baltic Sea than Portugal. And now there's a ship with a hundred of emigrants, at the onset of winter 1620 — they're decimated and exhausted by a long voyage across the ocean, with dwindling supplies of food. Mayflower's captain refused to try sailing south to Virginia in winter storms, claiming that he had barely supplies to survive till spring and make it back to the old continent.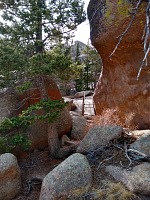 A bridge.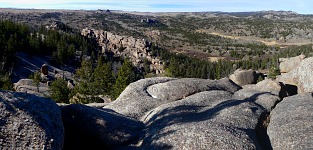 Vista.
The emigrants, then in English called Pilgrims, were in a thick jam — and naturally stood before the question what to do. The only thing they knew was that they had to stick together, and that they could not afford divisions and strife. They made hitherto unimaginable step — they formed their own government. They signed the Mayflower Compact. It was a very simple contract, proclaiming them to be subject of the English king, but at the same time empowering them to elect their own governor, which would make decisions on behalf of new settlers in the new world. Perhaps you don't find this to be a very revolutionary idea — but it's the year 1620 and the European population lives in serfdom, under God-anointed rulers — and at once we have an elected government, which holds the mandate of the electorate — and yet only for as long as the electorate considers it worthy of such mandate. No enlightenment from Above, and no cushy tenure. And yes, the whole Compact got signed by forty one men of the expedition. Is it too few? too many?
When we jump again to Declaration of Independence, which obviously follows in principle of this original primitive agreement:
...That to secure these rights, Governments are instituted among Men, deriving their just powers from the consent of the governed — That whenever any Form of Government becomes destructive of these ends, it is the Right of the People to alter or to abolish it, and to institute new Government, laying its foundation on such principles and organizing its powers in such form, as to them shall seem most likely to effect their Safety and Happiness.
Hmmm... do we have governments like that? Does anybody today honestly care about our Safety and Happines??
Getting back again to the original story. Pilgrims found an Indian village on the shore. Its inhabitants have all died of plague, their huts often still contained skeleton, there was no one left to bury them. Still it was some refuge, and apparently on the factors that helped the new group survive. Even so, they had lost more than half of their members during the first cruel winter. Did you ever think about why North America got truly settled only after hundred and thirty years after being discovered? Was it not perhaps because the original inhabitants managed to defend themselves against the few Europeans who overcame the Atlantic on unreliable ships? That actual settling began only at the beginning of the 17th century, after the indigenous people were decimated by plague.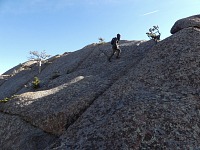 Tom quite likes to accompany us on trips (unlike Lisa).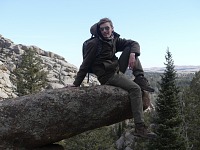 Tom.
In the following spring, the emigrants were visited by Massasoit, a chief of the Wampanoag tribe. Eventually he brought an interpreter along — Tisquantum, called Squanto, had spent several years as an English prisoner — and could speak English enough to converse with the Puritans. What's fascinating about it, is the fact that both Massasoit and Squanto did not see anything good coming out of Europeans until then — and still decided to help these new settlers. Perhaps that they were able to watch them through the winter, seeing that these immigrants were regular people, simply trying to survive — and not pillage and enrich themselves. In return for assistance in an unknown environment, settlers, who wielded guns, became a good deterrent for tribes adverse to the Wampanoags. The Wampanoag tribe eventually agreed with the settlers on a peace accord, which lasted for the rest of the lives of all participants. You may wrinkle your nose over a compact holding up for only fifty years — but how long did the Versailles Peace Accords last in "civilized" Europe of 20th century?
Another interesting fact was the economic arrangement of the colony. Pilgrims has formed a collective in which they were all stake-holders. At the beginning, they all operated as a commune — they worked together and subsequently shared their earnings equally. But soon it showed, that some individual comrades in their unified columns, would slack off, arrived late to the fields — an still receive just as much as those more productive. And in the end the Pilgrims had to arrange that every family got their own land to work on without central planning and re-distribution — and suddenly their production increased, and so did the living standard of the settler. Simply put, soc-dem had failed already in the 17th century — but Pilgrims managed to learn and correct it in the short span of only two years.
This brings us to Thanksgiving. In November 1621 Pilgrims announced a feast, to which they invited Massasoit. He brought along ninety tribe members — thus greatly outnumbering the forty four remaining settlers. I wonder whether Pilgrims expected such number of guests — yet Wampanoags proved themselves very acculturate guests — they also brought along hunted game (records mention five deers), and the feast dragged on for three days. It featured a military show, dancing, general merriment — and sports. I would very much like to know what athletic competitions worked for Indians and Puritans at the beginning of seventeenth century? Soccer?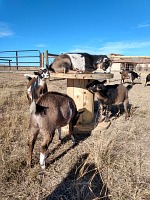 Our nice neighbor donated spools for our goaties.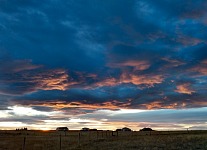 Autumn skies.
A question comes up, whether and why Pilgrims felt a need to organize Thanksgiving. From their original strength of 102 people, 58 did not survive. Were there remaining glad at least they have survived? Were they humble and God-fearing people, who wanted to thank for what they have, and refrain from bemoaning what they lost? Given their strength of belief, I consider it likely. From the distance of four hundred years I can see that there was much to be thankful for. They had managed, in the span of one and half year, to extricate themselves from a bloodbath in Europe, follow the path of their faith and conscience, survive chilly fall voyage and winter in cruel conditions in total absence of civilization; set up a government, find common ground and agree on a peace compact with locals — and learn that socialism does not work. They paid dearly, losing almost sixty percent of their members. However — how many people perished in Europe, in religious wars, during French Revolution, socialist revolution in Russia, in those two world wars? How many people perished in concentration camps, gulags and re-education institutions, in uranium mines and working as war-slaves? Do you feel that our current civilization has learned over those four hundred years more, than Pilgrims did within eighteen months?
On the other hand, we (our family) at least had a chance to learn — about to be grateful for what we have. And so we interlaces holidays and good food with more trips around our beautiful country, and rejoiced to what amazing place we managed to move. No visitors came this year, and our celebration was in a very small circle. As I wrote many times, I like Thanksgiving because it feels like a small Christmas — but without the stress with presents and preparations. And, as bonus — unlike the movable holiday of Christmas — it's a fixed stretch of four days off. A pause between summer and winter, when you can sit down and notice how the kids have grown (tall) and how one has grown (wide), and ponder a bit how life goes by.