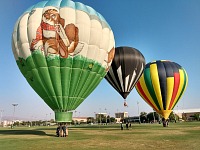 Static balloons.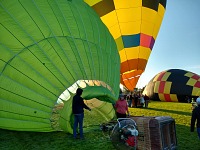 Building up.
September became a very relevant month for us the previous year, as we keep remembering that "...last year around this time..." We had closed on the sale of our California house, and purchase of our house in Wyoming; we were packing, throwing away, and giving away everything that had accumulated in our home over eighteen years. Across the distance of twelve hundred miles, we attempted to organize indoor painting and laying of new floors. Eventually we drove two cars to our new home, and started dealing with delayed moving trailer, delayed washer and dryer, delayed carpet and vinyl, and broken, unrepaired windows. We found ourselves in a place where we did not know a soul — accompanied by two children, whom we abducted from known home and life.
One year later, we still like it here very much; I shall not burden you with the enumeration of advantages this time. Personally, the most fundamental change for us happened with out offspring. During this year, they have shifted from children's category to the level of adolescents — but ones very self-reliant and capable. Perhaps the best illustration of it is a fact that right on the anniversary of our moving in, Lisa received her driver license. Now she, too, can drive on her own, and we got rid of many worries with our family logistics.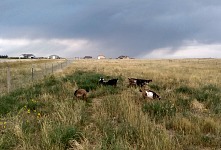 We know fall weather around our house from last year.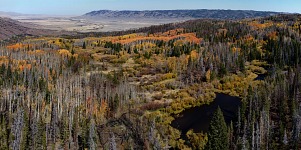 This year we had the time and energy to explore and admire our landscape with colorful trees.
But we're getting ahead of things; there was more that happened in September. On one hand we attended two more ballooning events. One was just "decorative" — static balloons were providing a backdrop to some marathon even at a University in Ft. Collins. We did get to fly during the next event, and enjoyed balloon chase. It's a bit of a problem in Colorado, as it's been under furious construction, disappearing fields and therefore suitable landing spots, roads and streets as being changed — and those already in place can't keep up with traffic demand. But we coped, and found Dan with his
Hare Ship
, when he landed.
On the other hand, there was a relatively taxing affair of vaulting Nationals. Lisa had refused to compete at the onset of summer, but she remains in orbit around the vaulting team. When she proposed to go see the Nationals in Durango, Colorado, I found it a rather good idea — until I discovered that Durango lies across multiple mountain ranges and valleys on the opposite end of the state than we are. Thus we planned it as a girl-trip — our chaps are indifferent to vaulting, and driving four hundred forty four miles in two cars just to be able to split the family to tourists and spectators, did not seem very reasonable.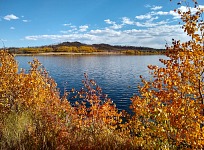 Lake Owen.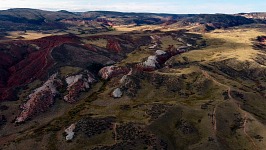 Red Mountain.
I was rather worried whether I'd be able to drive the whole distance, to get there just on a Friday. At that time, Lisa only held a temporary license, so she could switch with me in the worst case, but I would not have got any rest hovering over a student driver anyway — especially on a route new to us.
We set out in the morning, after I took care of my goaties, had a breakfast, and packed the rest of things that I thought I might need for those two days away from home. Despite being afraid of Denver's legendary jams, we drove through relatively easily, and then we entered the mountains. I lost my worries of driving on a long distance. We were passing through such a beautiful landscape, admittedly on county roads, but those were well-built — and though Friday traffic thickened around us, we got far enough from main population areas that it did not really matter. Here, in the country, everybody must use a car to get anywhere, and therefore knows how to drive and goes very briskly. At the same time, everybody needs to get to their destinations in good shape, so no one makes crazy moves or threats.
The town of Durango lies on the western side of Rocky Mountains, and to reach it from our end, one has to overcome three mountain passes — Kenosha Pass (10,000 ft = 3,048 m), Poncha Pass (9,010 ft = 2,745 m) and Wolf Creek Pass (10,857 ft = 3,309 m), hence driving get really interesting. Especially in the fall, when trees begin to take on furiously yellow and fiery red colors. Durango itself, alas, is a tourist trap. That is not to say that the town in the picturesque foothills were not beautiful, but it's apparently not very well suitable for normal life — stores along the streets are either restaurants, or they peddle trinkets and memorabilia. Our hotel was a big disappointment — for two hundred fifty dollars a night, I imagined something distinctly better than sports-team-level lodgings in the style of 1970's. When I skip the fact that the whole hotel smelled slightly of poor hygiene and cigarette smoke (including our non-smoking room), and the room design with huge windows leading INSIDE to the hotel lobby was rather peculiar, which of course is not a fault of current staff, the dysfunctional lamps or barely dripping shower head in our room, which invokes the thought that washing in a creek might be a better deal, all sum up this conclusion: the price is an outrage and a shame.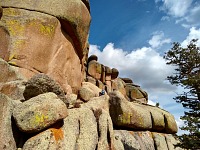 Scrambling through rocky outcrops of Sherman Mountains.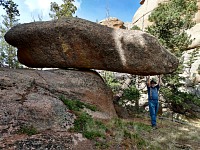 Scrambling through rocky outcrops of Sherman Mountains.
Still we moved into our room, I found out from a brochure that there was a sushi place at one end of our street — and went to fetch a consolation prize to the hotel bar — two drinks on the hotel for adult guests in the afternoon. Refreshed then I was willing to venture out fetch the fishy dinner. Carrying a box back to the hotel, I touched base with Lisa's coach Nicole over the phone — and since they have not had dinner yet, and wanted to eat at a local barbecue, we met at a patio there.
I had my doubts whether they'd let us in with our sushi box — but Nicole laughed; we were in the country, and no one cared. Indeed, they did not. Yet barbecue turned out problematic, for after an hour waiting they still could not resolve Nicole's order, as well as an order of another vaulter's (Maddie) family. Our pleasant sitting arrangement turned into a bad scene with whining small kids and general disappointment, with most people hungry and upset.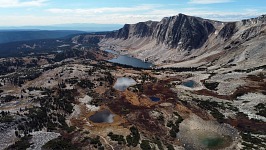 Drone picture over Lake Trail under Medicine Bow Peak.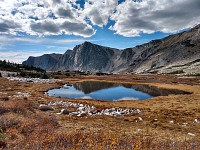 On the trail.
Getting up early in the morning was part of the deal — I volunteered to help at the gate, and my shift began at seven forty-five. On a ranch some twenty miles out of town. Competitions like this can function only thanks to tens of volunteers from the parent pool — and the usual rule is that a club must stand as many volunteers as there are competitors. Our club had, in fact, only one vaulter, who's mother also volunteered, but I reckoned that instead being stuck for two days as a spectator, I would rather do something useful — and the club will get a small plus for it, somewhere. Organizing entry for competitors at the gate to the hall meant that I got to see all my old associates — mostly with Lisa's original team from California, which had come at full strength.
I would like to drop here my disenchantment from the whole vaulting competition organization. Qualifications for Nationals were a new feature this year, taking place separately on the East Coast, and West Coast. Western participants qualified in Sacramento, California; in August, when temperatures remain around hundred, which is extra stress for both people and horses. Sacramento was under the heavy burden of the Dixie wildfire, and everything was shrouded in smoke. Colorado teams need to travel to California for two days (especially with a horse trailer) — so Lisa's team eventually did not go to Sacramento at all — except for Maddie, who qualified on a borrowed horse. The glorious National ended up with California teams at full strength, and the rest was made up with random individuals who had been willing to expend a great deal of time, money and effort to qualify.
The second problem is Durango itself. Yes, it is located approximately in the middle of USA, but at elevation of 6,500 feet. This has shown up to be a handicap for the coastal teams — if you spend most of your life at sixty or so feet above sea level, and then travel more than a mile higher, you get naturally sick. Hence of those people who qualified in Sacramento or on East Coast, many were in bad shape — there even was some vomiting and head-aches and so forth. Vaulting is a fringe sport, competitors mostly attend some school full time, their parents have non-vaulting jobs, and really no-one had time to take a week to acclimatize like an Olympian.
The third problem with the race was the location of the ranch, somewhere in boon-dogs twenty miles from hotels and civilization — no chance to take a break from the event for a lunch or visit to a drugstore for head-ache pills and such. There also was no local club in the place, which could provide a base for everybody — like, running to a local barn to borrow spare reins or a mat, or diggin in boxes with old costumes and vaulting shoes, lending out forgotten, broken, or torn equipment.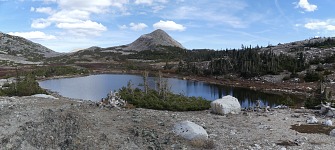 Sugarloaf Mountain — a saddle left to the hill leads to Lewis Lake where we hiked in summer.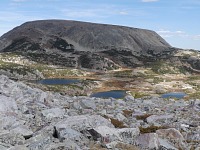 Libby, Lewis, Klondike and Class Lakes.
I liked working at the gate, but it was a rush — actual competitions took place in the rear section of the hall, while the front half featured two rings for team preparations, as their schedules came up. One team was competing, another was waiting at the entrance to the arena, third and fourth was warming up, and the fifth and sixth lined up outside the hall, ready to prepare, etc. The actual ride takes several minutes, and the whole queue advanced rather briskly, and keeping track of who is who, and where they should be, was a rather hard work — especially since some horses went for multiple rides with pauses in-between — in the style that they competed, then returned directly to the prep rings, for their next ride came after this other team — I think I got my head exercised so well, I pushed out Alzheimer by several years. And by that I had the advantage of knowing two thirds (Californian and Coloradan) teams personally — or at least I knew which horses matched with which coaches, lungers, and vaulters. Yet only until the moment when horses started being exchanged around, because, of course, even at these competitions, there was sudden lameness and disqualifications.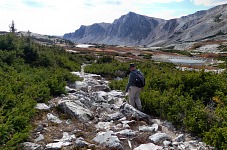 We have to take same trail back to our car.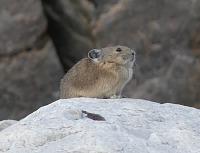 Pika was angrily whistling at us.
In addition, on Saturday the organizer came up with an idea to secure dinner for the competitors — from three to five pm — after which more rounds of races were held. This meant that some were present at the ranch from seven in the morning till eight in the evening. Including some of the youngest vaulters, without the option to detour through town for an ice-cream or a rather more decent lunch, or to the hotel to rest in bed or in a pool. Neither Lisa nor I were competing, I had my gate duty, Lisa worked as a horse woman for Dozer — and we both chatted with friends and associates — and still were completely tired. Back in town in the evening we barely managed to order sushi to go — as we had no time or nerve to seek and check out alternatives, while restaurants closed by eight or eight-thirty. Meanwhile we encountered a drunkard with a memory dysfunction, who repeatedly demanded to know where we were from, as we talked to each other in Czech. We subsequently ate our dinner together with Nicole and Maddie's family, sitting at formica tables in a gloomy hotel cafeteria — an impressive cultural experience in a resort town.
I did not work on Sunday, and thus I had more time to follow the schedule and talk with people — but Lisa and I also needed to get reasonably back home. We packed it in by noon, had ice-cream in Durango, and then drove. Lisa carried part of the way, just to try an unfamiliar route, and I kept calculating when we'd get to Denver and its Sunday evening jam. Fortunately it was not as bad, we got delayed on only one mile near Bailey, where the road narrows into one lane. Fortunately, our bus having automatic transmission, there was no need to ruin the clutch pumping it into a steep uphill. We even got home in a decent hour. I was hoping a little that Lisa would regret not having competed, and that she might return to vaulting actively, but no luck. Instead, Lisa was happy to have enjoyed it while being part of the happening, but not unnerved through having to perform.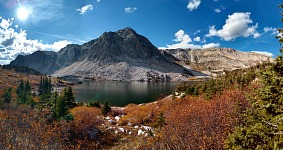 Autumn mountain landscape.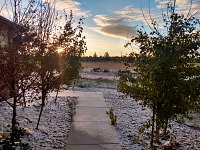 First snow of the season fell during the night from twelfth to thirteenth October.
The coach seemed happy as well to have another pair of hands along — so next time a competition was held, Lisa rode along as a matter of fact. OctoberFest took place in Denver, and eventually sported many more teams and vaulters than the whole Nationals. Even Lisa's club arrived at full strength, with all four horses, and an incredible number of rides, perhaps in all categories. Lisa did not get to stop — taking care of horses, herding youngest vaulters, monitoring preparations on barrels, issuing band-aids and bandages, and calming down dramas. Still she returned enthusiastic, and perhaps the system suits her, attending the vaulting club once a week, teaching and training a young horse, and subsequently staying behind and helping little girls with a barrel set. She keeps more or less in good shape, and on top of that she has her horse, while collecting coaching experience.
Tom turned eighteen this fall — somehow I don't quite process how come he's suddenly adult. Still, eighteen here is not as much of a big deal — we still can't take him to a bar and have a beer! We did not splash him with presents — he got his car in the spring (as far as Horace the revenant can be called a car); he did not want a new phone, so it's been hard.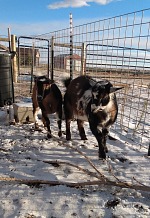 Goaties did not like it a bit.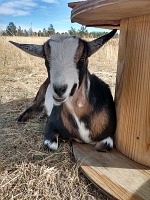 Fortunately it all melted away and the prairie is fine again.
With fall, prairie turned yellow, and suddenly it all looks just like when we had moved in. Unlike the previous year, this time we had time to notice what's happening around — and drive out to trips, to see colorful trees. I did not like fall when I was a child, perhaps because it was time of a new school year and frequent rains, but here, fall is really breathtaking (and I don't have to go to school). Our family turned into a bookie joint, and accepted bets for first snow — I went for mid-September, Sid and Lisa chose September/October break, but Tom won — he bet on October 15, and snow came on the 12th. It melted by noon, of course, but it counted — and since then we did not have any truly warm days, and nights get close to freezing.
Goaties do not like this much — although they have already grown their winter cashmere sweaters, but they did not expect such a low deal, i.e., snow, from me. Twilight, on this account, decided to stop bothering to produce milk — and thus my milking days were over. Chickens, too, stopped laying eggs — they are one year old, go through a plumage exchange — and fall comes with shorted days. I must admit that I, too, feel somewhat less productive — and after the summer rush of digging, turning compost, cutting and raking, I'm rather glad when it's "ugly" outside; I "cannot" work and it's OK to hide in the house.