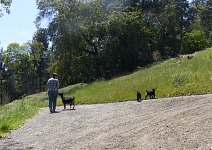 Walking with goats.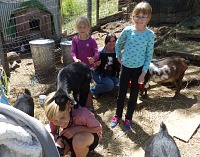 There's always commotion in the goat run.
By moving my goaties, I shed most of my stresses and worries — and chores, too. That's naturally part of the new deal; what time I save on feeding and general cleaning up, I spend by driving between the two stables. You see, Ned stayed back at the original stables — for financial reasons, but mostly because there is a extensive network of Open Space preserve trails attached to it; you can ride on the horse in woods. New stables are focusing on dressage, they offer awesome arenas, but provide practically no freedom for the horse and the rider.
Both locations are separated by mere four minutes' car drive, and thus it's not been a disaster, and besides I think that both me and the animals gained by my new absence of distractions. I no longer think, while working the my horse, whether goats might have slipped away, and while herding the goats I don't ponder that the poor horse has been locked up in the paddock and I should take him out as well.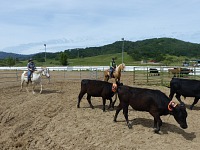 Sue watches the gate, Ned and I chase the cows.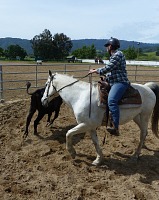 Sometimes one needs to lean into the curve.
So I could finally dare to plan something else than supervising the goats. I started it by a cow-sorting trip. It's a fun affair, organized by one lady in Gilroy. I was a bit scared — what would Ned say to strange surroundings, more horses, excited atmosphere and cows? My trainer Sue assured me that it would be alright, that she had been attending these happenings and that it's easy; but an animal is after all, an animal, and Ned does spook rather unexpectedly — for example, he's unmoved by a newly fallen tree, but fears a dropped lunch bag.
I was altogether nervous, especially when right after coming there I could hear the cows, who roared — well, like beasts. Neddie seemed un-fazed, and when I took him near the cow pen, he began to graze disinterestedly. I felt very relieved. Before Sue and I saddled up, other participants began to arrive, and I discovered that everybody knew everybody else, and I seemed to be a distinctly junior new-comer — I relaxed for the second time — it really would not be some ambitious competition, but an old friends' get-together, who consider it a social meet.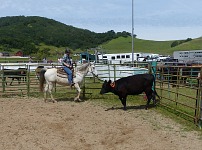 Ned's tail's up, he really likes this game.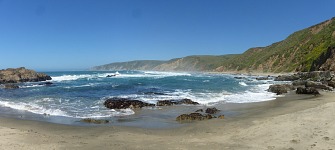 Trip to McClures Beach.
The rules were simple. Two round pens are connected in one segment, called the gate. There are ten numbered cows in one of the pens. A judge pronounces a random number, and the cows must be herded in ascending order, beginning with said number, to the other pen. I.e. if the the starting number is there, then cow #3 must go through the gate as first, then #4, #5, on through #9 and #0, to #1 and finally #2. There are two horse riders in the pens, one typically guarding the gate to prevent any cows out of order from passing through, and the other one chases desired numbers to the gate.
Sue with her young mare went into the gate — it requires better coordination between the horse and its rider, as well as sudden turns and jumps. Ned and I went for the cows. I must say that I most likely feared the calves more than Ned, who threw himself at them with a professional dedication. I noticed that had he known his numbers, I would have been completely redundant — as soon as he figured out which calf was to be separated, I could leave everything else to his competent hooves. During our last round, one clever cow kept hiding among the rest of the herd, until Ned got fed up and ran it properly off, through the gate all the way to the other pen. Either Ned had done this before long ago, or like every proper quarter horse, he's got cows in his blood.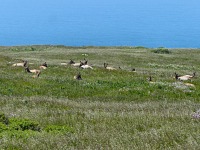 Resting elk herd at McLures Beach.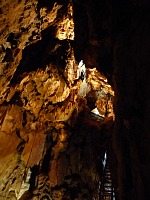 The Black Chasm Cavern is a vertical one.
Perhaps I don't have to stress that we did not meet the two-minute time limit, not even once. After all, Ned and I are elderly competitors, and with Ned's weight and history of a bowed tendon, I did not want to venture into sudden turns, but mostly, we were simply enjoying ourselves. It's interesting how much the trip moved us forward. Ned has grown at least four inches and prances around the stables like a world champion. And I finally stopped to be afraid — since Lisa's injury in the fall, I had a problem trusting any horse, but now Ned managed to deal not only with cows, but a load of other unknown horses. And the whole happening was a neat diversion during a horribly boring winter, for mudslides and bottomless mud prevented us from doing practically anything.
Meanwhile it was time to deal with the goats — Toni had provided me shelter by sub-dividing her own pen and run, but a boarding arrangement intended for three goats was not a permanent solution for nine goats (six of them mine). Baby goats, like most of prey animals, have no time to spare for gradual childhood — they have to stand on their own legs within minutes of birth, and in two months they are de-facto ready for self-sufficient life, despite not being grown to full size. When we dared to go on a trip without myself showing up at the stables for a whole weekend, spooked Toni called me that Twilight was horribly beating Willy and how was it possible that she would be so nasty to her own offspring. It's rather simple; the male goats are fertile in eight weeks and their storming hormones turn them into lunatics with lolling outstretched tongues, harassing any adult female goat. Including their own mother, who has no other recourse than applying brute force. Still, it was obvious that we could not let this continue — it would be necessary to order castration of the male goats and finally deal with some reasonable arrangement of the paddock and the shelter, so that all animals get enough room and would not go psychotic.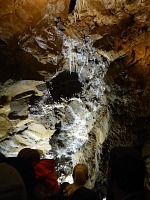 A mineral lace in Black Chasm Cavern.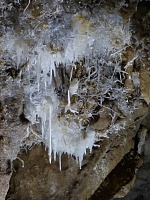 Detail of the cave lace.
Twilight, my alpha goat, reacted with interest — during the rebuilding, she followed me around and assisted me on every step. Apparently she demanded explanations of what was happening again. For the first day or two, the goats were confused that one now enters the shelter from the opposite side, and that they got a completely different paddock, but a greater area did them well and decreased fights. This was very important, as we were getting ready for Memorial Weekend, our first extended break in the camping season, and I needed my goats to stop giving Toni hard time.
Meanwhile we watched weather forecast with trepidations — for the preceding trip, we had chosen Black Chasm Cave, as it had to offer fifty (°F) and no wind, which sounded much more promising than this year's May weather here in California. Mountains kept being more or less snowed in, and it began to show that even the last weekend in May would not see passes opened across the Sierra Nevada. Of our usual buddies, we failed to convince anyone, despite the temperatures over this weekend being promised as very nice; detour via Kirkwood is a bit longer, but over much more comfortable and faster road.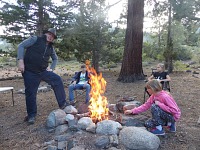 It got warm enough that we need the campfire only to keep mosquitoes at bay.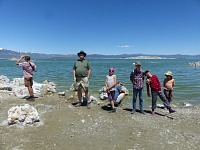 This is what you get when you ask a group to make faces.
We got an accidental help. It turned out that a former colleague of a wife of our grand-dad's friend happened to stay for two years in California with her whole family, and they would agree to some adventure. Thus we set out on Saturday morning, and our second attempt to meet at Jeff's place succeeded. The first attempt went awry, for we got to Walker surprisingly soon, and so we just continued on to secure our campsite. With prudence — of our favorite spot, only a small island remained in the middle of a swamp, lavishly supplied by water from a snow-melt brook, into which the access road had transformed. After checking out other dirt roads in the vicinity, we found on a hill above the swamp, a roomy alternative campsite and built our tent. We were a bit worried how the Horns would react to the rugged access obstacles, but they overcame it with ease.
On Sunday morning we set out right early to Mono Lake. Only, we had not found our annual National Parks pass, and thus had to pay a fee at the tufas; everything else went as expected. On our way from Mono we stopped at Panum Crater. We has not expected much from a unassuming hill in the middle of a common desert, and got surprised. The crater abounds with obsidian lode, which sometimes stick out of the surface — imagine whole BOULDERS from black glass. And the top offers a great view to Mono Lake and Sierra Nevada.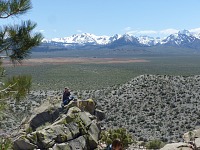 Tom at a viewpoint to Panum Crater.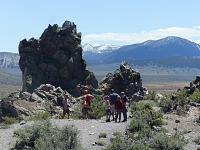 Descending around obsidian outcrop.
We had a late lunch at Nellie's Deli and then we had to hurry back to Leavitt, where we had reserved horses. Fifty feet of snow that had fallen over the winter began to melt, and we could not ride on horses over the river; we were forced to take a loop on the meadow. Which was quite OK, for we had some beginners along with us, and a short demo ride was much welcome. Honestly, the otherwise three feet wide and ankle deep creek right behind the stables was enough of an adventure. Water was reaching to the horses' bellies, and flowed with such a force that even Craig's strong horses were being jerked sideways.
As usually, we chatted with the locals at the ranch, asking them, where one could hope to go hiking on Monday. During this flooded state it was clear that swamps around Lundy Lake would be inaccessible, the road to Yosemite was closed, and Virginia Lake parking lot was not yet ploughed. Eventually we got recommended Convict Lake, which was said to be certainly open. In the evening, we managed to quickly run up to a viewpoint over Leavitt Falls. The road was still closed and we were there alone.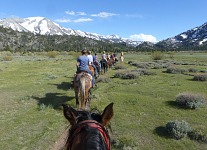 I was issued Razmine for the ride.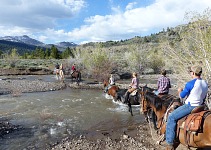 Usual small creeks were reaching the horses' bellies this year.
We packed in the morning and headed south, to Convict Lake. Just a look on a map told us it was rather far and in a direction opposite to the one we needed to take, but no better idea came to mind — and we have not seen this lake. I must say that my first impression was a very deep disappointment. Convict lake is BEAUTIFUL, rimmed with mountain cliffs. Alas, it is very, very popular and very, very crowded. You cannot see it on the pictures (as we tried really hard not to), but there were incredible amounts of people. Still, we hiked a loop around the lake and took pictures; we did not dare to embark on a larger expedition — Convict Canyon Trail lead, as the name suggests through the creek canyon. The same creek, which was momentarily flooding across tourist trails and bridges, forming a contiguous swamp in the rear part of the lake. After Convict Lake, the Horns still proceeded to Bodie; we headed back home.
The following week was rather stressful. Even in the circus that is our family, sad things happen, and on Thursday our hamster Frostie began to rest and sleep a lot, and on Friday evening, he died in my hand. But at least he was warm until his last moment, and got liquids from a syringe. I buried our hamster on our back yard on Saturday, and then we had to say good-bye to our wether Pixel. A family, who already owns his uncle Marshmallow, and semi-uncle Walker, has fallen in love with the three-color sprite. I was a bit worried, how the older wethers would treat a newcomer, but it seems to work out quite well.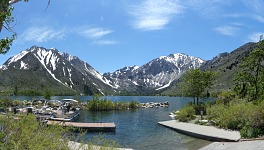 Convict Lake is beautiful, but, alas, very civilized.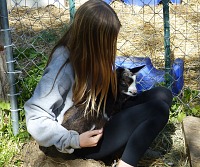 Pixel did not waste time and as a first of our baby goats, has secured his new home.
Unfortunately, his mom Twilight, who preferred Pixel over the second-born Willy, has decided that now when I took her Pixel away, she would not feed Willy anymore, and weaned him off immediately. This would be no disaster; an eleven-week old goat can cope easily without milk, but it created a problem for us, with milking. Twilight's udder was swelling so much she could hardly walk, but we have never milked her before, and she considered the whole process very humiliating. To make matters worse, for the first two days we tortured her even four times in a day, as we never quite managed to drain her fully, and the udder kept swelling. Twilight and I have been very lucky; Rachel, the owner of Starburst and Berry, knows how to milk, and she participated in these rodeos regularly. On the first week, we gradually worked toward milking twice daily, in a system, which has the goat tied in a stand, one adult holding the rear end of the goat, another adult milking, and kids trying to feed and pet her. We talked to the goat, threatened her, and even sang Christmas carols (it would seem that Twilight prefers quicker rhythms over romantic slow ones), with varied results.
After a fortnight, we got to milking once a day, manageable mostly in one person, but I still break out in cold sweat when I remember it. I admit that singing Christmas carols to a goat in the summer dusk sounds quite humorous, but I already woe the moment when Rachel would take away her baby goats and we would have to do it all over again with Licorice. On the other hand, I must say that Twilight's milk is excellent, sweet, with no trace of smell, and very fat (I don't have to thicken yogurts). And when a lucky day occurs and the goat does not buck, then the sound of our own milk trickling into a cup in the stables gone slowly quiet with dusk, framed by a view of Santa Cruz Mountain Range, provides a palpable therapeutic value. Still I shall think it over much, before plunging into the circus with baby goats and milking ever again.