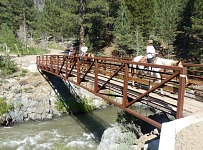 River is still impossible to ford; we must take the bridge.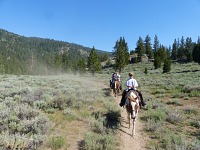 Lisa & Miss P.
This year's summer break began for Lisa one week earlier than for Tom, but this way at least she could participate in my early morning goat exercises at the stables. Camps happen there throughout the summer, on some weeks even four at the same time. Some are specifically horsey, but most are a combination of various activities in nature and in the stables. Including visits to runs with goats and chickens.
On Monday morning I would hold an obligatory short lecture for new camp participants about goats, and how to relate to them and other animals at the farm. I guess that the most favorite and effective part was the morning goat walk, just as the daily visitors arrived. We would let the goaties roam freely, children could pet them and watch them graze — and should anyone show interest in learning more, all they needed to do was ask.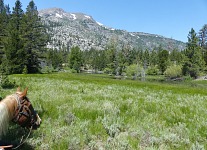 Everything's thoroughly green.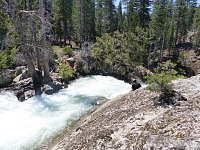 The waterfall did not dissapoint this year.
Come June, we could finally start to use our pool. During earlier years, we used to open the pool in March or April. Now the hesitant summer had arrived within four days and in a grand style. We were still using our gas heater at the start of the week, venturing outdoors in jackets only, and then we found ourselves running the air conditioning, hyperventilating while wearing swimsuits. A summer heat wave, which would be rather typical, came about a month early, and the sudden change was a crazy hit.
We loafed at home through the June part of the summer break — going to the stables on mornings, dipping in the swimming pool in the afternoon, part of the evenings taken by alternating with Rachel and commuting to milk the goats. I sometimes suspect being a bad mother, as I fail to cram our kids' summer program full of activities, but when I recall my childhood years spent at our summer house in the country, I used to also just hang around between a lake and the house, and so I don't get a feeling that I would have missed some organized activity then. Simply summer.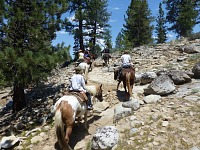 Horses must work hard in the mountains.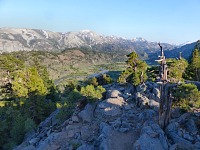 Evening view from a rock outcrop over our campsite.
We celebrate Independence Day on Fourth of July — perhaps the greatest American Holiday. It fell on Tuesday this year, and we reckoned outdoors would be crowded. They finally opened mountain passes through Yosemite and Sonora, and it was obvious that dedicated campers, who gave up on May's Memorial Day, would be out in force. We had planned our late departure for Sunday. Of our Czechoslovak friends, no one was available, but we got joined by Iztok and his family and friend Timm. We decided to check out a two-tent system. We can hardly fit into our four-person one (certainly not with bags), and so we packed along our two-person tent for our children.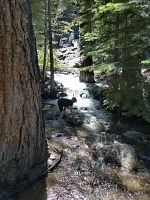 Children naturally amused themselves at the creek.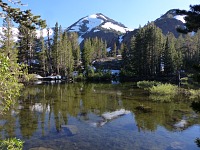 We managed to visit Virginia Lakes before fireworks.
We met on Sunday noon at a range station; Iztok and Jeanne were loading on maps and information, we were getting a camp fire permit. A lunch in Strawberry followed, where Timm caught up with us. Our usual camping sport still lingered under a little swamp, and as before in May, we continued one level up. I must say that much of this weekend is shrouded in fog for me — during the night to Sunday, I got a crazy virus, and had been mostly sick since. I still did not intend to stay at home.
You see, we had arranged a horse-back ride to the waterfalls, which was longer and more demanding than usual. One could still not ford the swollen Walker River, and we had to take a detour over a downstream bridge. Some other people, strangers, rode along, and it would not be appropriate to try talking the cowboys to stop short of our target and, say, splash in the lake instead. I got issued a relatively ugly, spotted little horse, who was awfully nice and clever, and would surely deserve a better name (than Bird Poop — but he really looks as if birds crapped on him).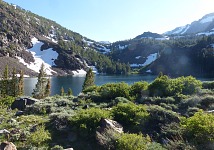 Blue Lake.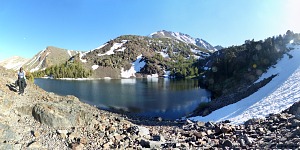 Blue Lake.
Our children surprisingly held up during this demanding ride, perhaps because we made a break in the middle and hiked to the waterfall overlook. Last year, people bathed in the creek under the falls, and kids had played downstream — now, deep water full of logs and branches boiled under the falling stream, while the canyon roared in maze of rapids. We had thought originally that we would complete the ride in the morning and still make it to an afternoon rodeo in Bridgeport, but we only got back by three. We reunited with Jeanne and her five-year-old Anja, and at least took them to an early dinner in Walker. Iztok and Timm still climbed in Sonora Pass, and we made it back to the campsite before them.
I had checked out completely on Tuesday, rendering most of our plans useless, about what all we would do before the fireworks; instead, I managed to sleep for a few hours in the tent. Here I must appreciate the presence of another family, for my downtime with cold was made possible mostly thanks to the fact, that children, when in a pack, will find their fun on their own. And if their parents support bouldering on surrounding rocks and building bridges over a creek, the program is set.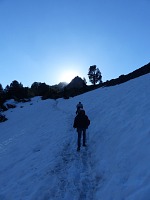 Snow, and setting sun, discouraged us from marching onward.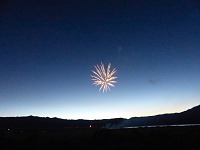 Fireworks over Bridgeport.
Still, we had not packed enough food for Tuesday, since we had planned a dinner at Nellie's Dali — thus I had to stumble out of my tent and get something substantial before the fireworks. In the end we had enough time for a brief visit at Virginia Lakes. Lisa had caught my virus, and we both were hiking huffing and barely catching breath. Eventually we were defeated by snow patches, melting only half way into a slush, and our sneakers were no match for that. We were out of time anyway, and it was a good idea to get out of the high elevations before dark, but mostly in time for the fireworks.
Caught the fun in good time — and on Wednesday we packed it all up and headed back home. I had to take over my milking, but both Lisa and I needed a few days to recover from our illness, to be ready for our great summer trip.