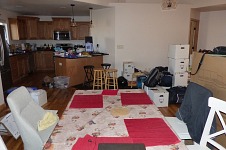 Cramped in our kitchen, with boxes, old furniture and new furniture.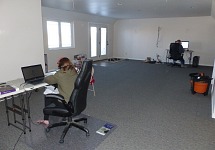 Big room in basement became the temporary office.
Arrival of the moving trailer was, of course, a welcome improvement of our lives. Just the fact, we suddenly had our dining table and chairs available, then plates, silverware, towels, all that was wonderful. Yet most of our stuff remained unloaded only to the garage or the barn. In the rest of the house, floors were going to get remade, and it made no sense to move nothing besides the kitchen.
As I already disclosed in previous journal, our carpet had arrived, and the carpet guys actually laid it down across the whole big basement room on a Saturday. Other floor guys could not come to place vinyl on the rest of the floors until Tuesday, and we had to live a couple more days in a makeshift arrangement, and then for three days with open doors and windows, dust and racket from cutting and fitting the floor panels. On the first day, when floors in kids' bedrooms were being done, we could close the door leading upstairs. On the second day, when bedrooms on the main floor were being done, we could close the same door and stay in the basement. On the third day, when stairs were being done, the door had to be taken out and we had to tolerate it. And then on the fourth day, when it turned out that the stairs were poorly glued and had to be redone.
I don't want to complain; the guys were fast, clean, skillful (except for the stair), but after three weeks sleeping on the floor in sleeping bags, and with other temporary measures, dust and racket quite got on my nerves. I was happy when it was finished, we could move, and all rooms could gradually assume their original purposes — like, our dining area stopped serving as a warehouse, and could receive an actual dining table, which thus left space for the sofa, which could be finally unpacked from its boxes, and so on.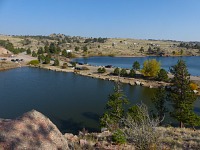 Curt Gowdy is full of tourists, campers, and fishermen.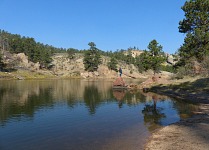 Yet a path around Middle Crow Creek was quiet.
While we still slept in sleeping bags, my stress got amplified by kids' school. They attend virtual federal institution named K12. This affair is an umbrella for individual local — state — schools. In Califarnia kids went to CAVA (California Virtual Academies), Wyoming has, unsurprisingly, WYVA. So we expected that we present a document about our new residence and kids would transfer from CAVA to WYVA, as it would be the case of switching brick-and-mortar schools. Hence I picked up a phone and called K12, explained the situation — and was told that kids can only transfer with next semester. Well, OK, this did not seem much of an issue, as we don't care as much whether kids connect virtually to California or Wyoming, only one must pay attention to times — Wyoming is in another time zone.
What followed, exceeded all my previous worse experience with K12. On average three times a day, somebody from there called me that they would not want to finish the enrollment with me. The the first roughly fifty callers, I patiently explained that the enrollment cannot proceed, as I would have to first de-enroll my children from CAVA, but since WYVA would not accept them until January, my kids would be without school. You see, every single time, another agent would call, who just got a prompt with my number on a computer list. The dialog often followed the same pattern; first they queried me about things like size of my bra, to make sure they talk with the correct legal guardian of a given child (always a single child, as somebody else would call me about the other one, at other time, which handily doubled the number of calls) — upon which the agent announced that (s)he would put me on hold for a while, during which they'd be verifying data in the system. They expected me to just stop and stand there in the freezing wind (for I might have just weeded our little trees or cleaned the stable), until they, sipping coffee in their cozy office, finally find in the damn system why they are supposed to talk with me. I started hanging up on these calls, or I just told them outright to not look for anything, that the enrollment cannot be completed, because etc.
Not to mention the fact that if they left messages, it was always on the other, old land-line number, now two thousand miles distant.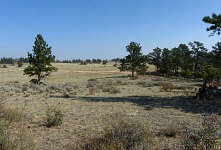 Vedauwoo plateau contains lots of dirt roads.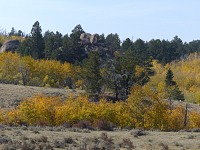 Rock climbing happens in this area.
I still kept upbeat spirits, resolving to survive it somehow till Christmas, and then we figure it out. My bad. One morning the kids came with a problem: they could not log into their school system. I tried to log in myself — nothing. I shot an email to their teacher that the kids cannot get to school — and received response that it was proper, since they had been UN-ENROLLED. I almost got a stroke, so I began dialing K12. In that moment, three guys drove up, whom we contracted to help us with unloading the trailer, and asked me to direct them what goes where. For the following three hours I alternatively yelled "no, the milking stand does not belong to the kitchen, it goes to the barn" and "how can you throw kids out of a public school without the knowledge and consent of parents?" K12 maintained that they understood my frustration but nothing can be done, and I must stop yelling and no, I would MOST LIKELY NOT go to prison on charges of child neglect, since my children fail to attend school, but it's not in their competence to resolve it, and if I could tell them the name of my first pet, to make sure that I am who I say I am. Meanwhile I sent emails in all directions and phoned, I think, even a WYVA janitor, for it became clear that WYVA was our only chance — thanks to the governor of California, who did not allow opening schools for normal people (his kids — naturally — attend their school, as it is a private one, which we, taxpayers, finance), thus CAVA is overwhelmed by thousands of applications, and every freed-up slot is immediately snatched.
By two o'clock in the afternoon, WYVA principal called me — they and CAVA came to a conclusion to transfer the children between their schools outside the process of the umbrella K12, which was the obstacle in switching in the middle of the season. She said she left messages. But — messages ended on the old California land-line. So. I am still a stroke candidate, for sometimes K12 still chimes up, about the enrollment and if I could upload them something, like the child's birth certificate. I offered during the last call that they could look in their system and find the birth certificates there, from four years earlier, when we ENROLLED for the first time, because now we just shuffle kids between states. They replied that these are old data, and perhaps something might have changed in those four years... By then I was wheezing in rage, and asked if they think that over those four years the child could have changed birth mother or the day of birth — and then I hung up. Considering, I am an aging person and in the context of being responsible for my own health and cardiovascular system, I try to avoid calls with K12 (they fool me sometimes, when they use a different number). Kids attend school, which works, they get grades, and local teachers communicate, so we may actually survive without the K12 machine.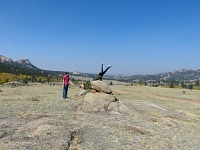 Lisa performs vaulting at an outlook.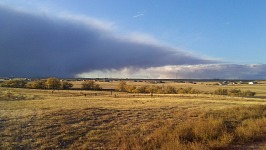 Storm moves through the prairie.
In the meantime, we managed to settle down a bit in the house, and time had come to check out the surroundings for interesting places. A short distance outside the city, there is a State Park, so we entered, paid four dollars at the register and let them explain, where it is possible to go for a walk. We did not make it big, for our canary Lisa reported bad air quality (with her asthma, she picks up everything), thanks to wildfires in Colorado, so it was unreasonable to hike a lot. Instead we took our Ford a bit farther, to a dirt road named Vedauwoo, leading across a National Forest. Thus we tested our four wheel drive (Ford normally drives just the back, but can be switched to four with or without low gear), and discovered that with a pickup sporting high clearance it is possible to drive through spots we would not dare with our Subaru. Trip was declared a success.
Sid had to do another round of moving — of his work office. He had left a greater number of computers and his airplane avionics simulator, on which he works — we did not want to entrust such fragile and expensive instruments to the moving trailer, but they would not fit with us in our cars. Sid was leaving during one of our chilly periods. It was just stormy skies around our house, and the few hail projectiles fell (or rather flew horizontally at about fifty miles per hour) in the moment I was hastily discontinuing our irrigation hoses, to prevent the pipes and hoses from cracking. Sid encountered snow in the hills of Medicine Bow, but drove on.
On twentieth October, six weeks after ordering the washer and dryer, i.e. after time three times longer than advertised, these two machines were finally supposed to arrive. Sid demanded an admission from me that I was glad and looking forward to it — but I would get sick every time I looked in the direction of the Himalayas of dirty laundry (towels and bedding and blankets that had actively participated in our move, acting as padding and covers), and I also had little faith that such endeavor would proceed smoothly.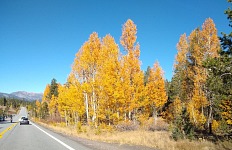 Sid ventured to California again, this time on a business trip.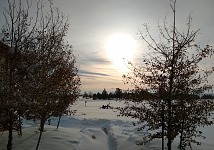 Sunrise after snow-storm.
And I was right. We had purchased the washer and dryer with a surcharge for "
professional installation
". Given the fact that these installers arrived from progressive Colorada, we expected trouble. But those two Dumb & Dumber, who materialized alongside the appliances, could right away act in a comedy show. Or in a family drama, for it was not all that funny. After they berated us that they would charge us extra for every step up or down they have to take in the house (there are three), and proceeded in a very official manner, it began: "And Mizz, do you have hoses with that?" We had spare hoses, from our old house, despite our idealistic conviction that a professional installation should include material needing to install an appliance; we have been sufficiently schooled by years of socialist, state-run household management departments. Hoses accomplished, dryer was being scrutinized. "But we don't have the correct cord, it must have an L-shaped pin; do you have such cord?" — sure, most of the time I wear three or four about my person. Hence, Sid was dispatched to a local home improvement store — perhaps twenty minutes drive each way. When he returned, we heard for a few minutes banging from our laundry room — and then again "and Mizz, the dryer has no air duct". Off Sid went to buy an air duct. Being away thirty-five minutes, Mr. Dumb (or was it Mr. Dumber) peeked out and said, "well, tell him to also buy clamps with the duct". I told him that my husband was almost back — so Mr. Dumb told me, regretfully, that they cannot wait this long, to let Sid go back again for those clamps, as they would have to move on to the next client. And pushed a tablet in my hands for me to sign that they've performed the installation, and proceeded to demonstrate how the washer had been installed. He pushed a button — and nothing happened. I suggested that a breaker may not be on. I was told that the cause cannot POSSIBLY be a breaker, but the previous house owner must have installed a secret switch somewhere. So I looked for a switch — but since I am domesticated ignorant, who has no clue about these things, but who does trust PROFESSIONALS, I personally went to check the breaker panel — and enabled the one labeled LAUNDRY. Guess what? Yes, the washer worked.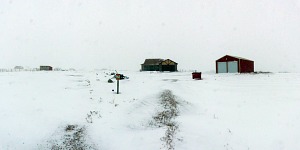 Our neighbors are barely visible, we might as well live on a deserted island.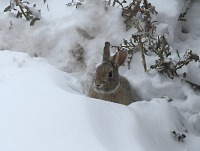 Our house rabbit turned into a polar rabbit.
Mat congratulated himself for having it connected it so cleverly, and again pushed a tablet toward me, to sign. So I asked how should I sign for an installation, when the dryer was standing in the middle of the laundry, obviously not installed at all. I agreed to confirm they carried it up three steps, and they more or less installed the washer, but no dryer. He looked very hurt, perhaps he expected that I would beg and bribe them, to wait until Sid comes back for the third time (they could not say all at once what they did not bring along?), or that I express my sympathies, now that there is shortage of parts, because covid (Sid bought everything with no problem), but I was most of all looking forward to them getting the hell out.
Local handyman Kevin had subsequently installed the dryer withing five minutes, and I could attack the Himalayas.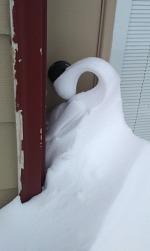 Some places winter knocks on the door; here it reaches for the doorknob.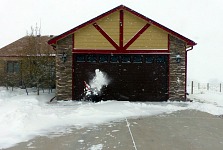 Snow blower Lisa.
Local weather exhibits menopausal bursts — most of the time it is nice, pleasant, sunshine, breezy. And then suddenly, for a few days, not only hail and gardening supplies and dumpsters fly through the air — but even semi truck trailers. And then it goes back to nice and nothing's happening. During one such winter weather seizure, Tom celebrated his seventeenth birthday. He got some little things and we baked our lemon cake again, but his main present — cross country skis — were postponed to a moment we would be able to drive down to REI in Colorado, and try both boots and skis.
Rick, our court builder (of goat stables), had told us a few days before that a storm was coming and that we should count on possibly not being able to get out of the house, and buy some supplies. I went to fetch those a day before the storm, when it got cold and windy so much I word a hat and a down jacket. It disquieted me a little that locals would walk around in t-shirts, and jackets I spotted only on weak individuals — very little children and extremely ancient grand-mothers. Apparently, things shall get worse.
Purchases accomplished, we could stay warm at home all day on the worst day, while wind outside angrily threw snow in all directions. Whenever a snowplough passed by on the county road, snow had covered it all again in ten minutes.
I ventured to the city on the following day after all. Our previous purchases somehow lacked a snow-shovel. We own a spade, a manure shovel, but try to work with those on a re-frozen fluffy powder. So I pulled the Ford out of our barn, turned on the four wheel drive, and set out across the white plain, into which our driveway and surrounding prairie had turned. The driveway may be some hundred yards long, and curves in an elegant bow. It sports a dumpster on the near side, and a gap in the fence on the far side — these two references are easy to spot — but I only noticed missing the curve of the road when the car under me began to list to the left. On the following day, coming back with the kids (Lisa to vaulting, Tom for his skis), I found the other ditch — but at least now the driveway was clearly marked — with my trenches; all you had to do is stay between them. We realized why all stores exhibit, in prominent places, besides all those snow shovels and blowers, also long sticks with reflective pads. Now our driveway is properly marked.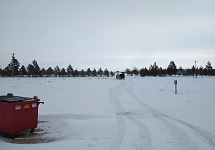 Marking the driveway — the trench to the left must be a ditch.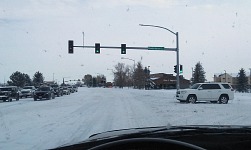 Busy traffic in the city.
What surprised me was complete cool of the locals. In California, even in the mountains, havoc breaks out with every fallen inch of snow, accidents, and general miasma. Here I drove out on a partially cleared county road — and just drove. At ten degrees it made no sense to salt it, so we all waded in packed, driven over powder, and tried not use brakes much, or do many turns. Similar situation continued in the city — main roads were more or less cleared, byways and parking lots contained mostly packed snow. I was glad for our Ford, with high clearance and four wheel drive, but I noticed regular sedans driving around. With the exception of one with South Carolina plates, which crawled ten mph, others moved quickly and without hesitation. Intersections exhibited more careful starts, for everybody apparently counted on cars going in the cross direction possibly not stopping in time for red light, and so people wait till everybody passes through, who may have decided that trying to brake would not improve the situation.
Yet few days later, the snow was gone; we did not even manage to try out Tom's new skis, having bought them toward the end of the latest snow. Pretty autumn continued on, with sunny days reaching sixties. Sometimes I think that the Wyomese make fun of other people, claiming very harsh winters — so that nobody would come here.