Shasta Caverns are located in a limestone hill on the other side of the reservoir.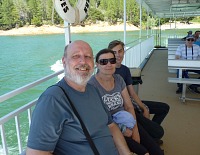 A boat ride was refreshing in the heat.
Our previous year's vacation has soured us in regard to National Parks and long travel — when something does not work out on our road trip — such as, wildfires erupt and those aforementioned parks close down — one has a hard time escaping it. Moreover, our children were rather committed to the summer camps and did not feel like going on a big trip; thus we established rafting in Oregon as our primary mission, and planned the rest of the trip around it. There were caves along our way north — Shasta Caverns — which we have never visited, and on the way back we wished to get a boat ride to Hellgate — a chasm on Rogue River. It would seem we did not learn enough, for we purchased our tickets for a Monday ride ahead of time.
Sid insisted that going north was faster over highways 680 and 80, which was shorter indeed, but it includes a toll bridge, on which we had spent maybe half an hour waiting in a line for a tool booth. Rest of the drive proceeded at a faster pace, and we had enough time to see Shasta Caverns on the same afternoon.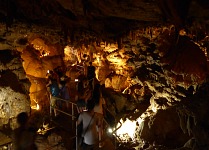 Caverns were at refreshing seventy degrees.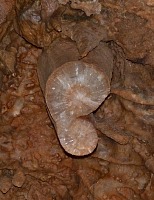 Stalagtite cross-section.
We had never been to these caves before — on a hot day we were happy to start our tour by a boat across the reservoir — the park operates a shuttle for this purpose and ferries tourists. It's colder near the lake, and the boat had fit nicely into our road trip watery theme. A bus takes tourist onward from a small jetty, for caves would otherwise be hard to reach, as the entrance is located high in a limestone cliff.
It was pleasant seventy degrees underground, and so we did not mind many stairs up and down. A grandiose dome to the end of the tour was fascinating, despite previous tourists of this season having managed to scare off almost all bats that live there. Sid was lucky and just as we were leaving, he managed to spot one bat. Very satisfied, we let the little bus take us down to the boat again, and took the boat back to the info center, where we subsequently spent considerable time looking for suitable t-shirts with Jefferson.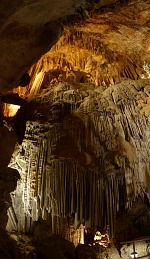 Grand Organ, where Sid spotted a bat.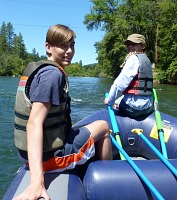 Front paddlers did not expend much effort.
Having reached Shasta, we entered the territory of the fifty-first, though not officially ratified, state of the USA, Jefferson. Flags and signs along the highways were hard to miss. Jefferson flag features a gold prospector's pan, on a green background. The pan contains two diagonal crosses, or X's, which symbolize having been double-crossed — both from California and Oregon — Jefferson encompasses very north of California and much of southern Oregon, all rural regions, which feel cut off from addled politicians of both San Francisco/Sacramento and Portland/Eugene. I must say that we sympathize with Jefferson to a great degree — what is happening in our surroundings keeps eluding sanity, much less our reasoning, which has experienced totalitarian regime and terror of the comrades. Insanity of large cities has not been anything new, for the idea of Jefferson State came to being already in the year 1941, but sadly has not matured into a phase of producing results.
They had no Hippo-sized t-shirt at Shasta Caverns, and so we continued to the small town of Yreka. It is one of theoretical candidates for a capitol of Jefferson, and so our next stop continued on the same theme. Yet our arrival was a bit dramatic, for a few miles past Shasta the volcanic mountain we had entered into smoke. After vacationing in Montana in previous year, where we coughed our way across several thousand miles, we felt truly devastated. We had already booked and paid a hotel room, found ourselves two days from home, and so we checked into the hotel and tried to find on our phones what was happening and whether there was a chance to rescue any pieces of our shattering vacation. Naturally, this has been the one trip on which we did not pack our laptop, thinking that we would camp for most of the nights. That is, besides this one night at a hotel, where we were desperately trying to figure things out. And to cancel the Hellgate ride, for the town of Grants Pass, where the ride starts, gained a very bad air quality that made it a bad choice for Lisa's asthma.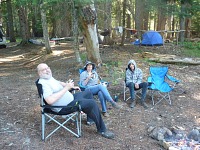 Taking it easy at a campsite.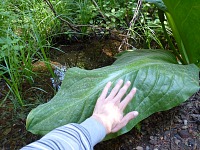 Oregonu has rain forests, and everything grows.
In the end we decided to relax and go have dinner, and leave the problem to the morning, whether to cancel our vacation and return. We found Etna Brewery on the internet as a suitable candidate for dinner and beer, and set out. Local pub has not disappointed; to my surprise I liked blackberry lager better than their red ale (by the way, also very good) — I normally regard fruity beer as an abomination, but this one was really excellent. In the meantime, Sid managed to buy himself a Jefferson t-shirt in the pub, and thus we covered all urges.
We have taken breakfast while browsing the internet again, trying to come up with some plan. It would seem that Oregon's Shady Cove got missed by the smoke cover, and we decided to take the risk and continue with our trip, hoping to evaluate situation on the spot, using Lisa's cough as a metric. A little while past the Oregon border we drove under a blue sky, and since our canary in the mine Lisa did not report any problems, we rented a raft and embarked on the Rogue River.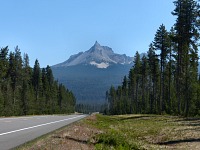 Mt. Thielsen.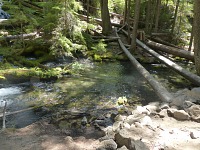 Clear water in Clearwater Creek.
We have not been to this river for a couple of years; either we did not find the time, or there were wildfires, or on account of weather — the stream itself is ice cold, and to have you appreciate it, the surrounding air must be near ninety. It all came together this year, and our kids have meanwhile grown so big, I was finally able to give them hard time about their paddling skills. My husband, however, expressed a wonder at the end that he had the impression I was steering the raft into the largest rapids... Given the fact that we had met on a canoeing trip and we had been together for nineteen years, I did not expect to surprise him like that.
Sadly, they have closed our favorite restaurant in Shady Cove, and we went to have Mexican food. We normally don't eat it, as we find such meals heavy and unhealthy, but warm food is warm food. We had a drive into the wilderness ahead of us, and camping in the woods, where we did not feel like cooking complicated things on a fire after a whole busy day. Unexpectedly, our favorite spot was taken, and we had to look for a campsite a bit longer.
Clearwater — falls.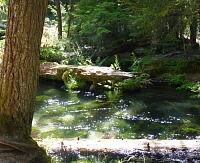 Pool above the falls.
We managed to sleep long into the morning. Even I, who goes to bed and gets up with the chickens, managed to stay in my sleeping bag maybe till nine. Perhaps we benefited from paddling, but even more likely it was from the long travel and a bad night in smoke in Yreka. We looked at the sky with suspicion, but since it did not look smoky at all, we packed and journeyed to waterfalls, and we would get closer to Grants Pass in the event, and if it turns out to be OK there, we would rent another hotel room there and try our pre-paid boat trip to Hellgate in the morning, for they kept refusing to cancel it, despite official weatherman recommendations to limit outdoor activities there.
There were relatively numerous tourists at the waterfalls along route 138 — most likely driven by smoke away from Crater Lake, but despite that we enjoyed our lazy day. We still felt like not rushing anywhere, slowing getting near Grants Pass, where we would find some hotel. Tom generally likes to go on trips and hikes; Lisa is more obstinate, but this time she had found her game. She got hold of our old camera, and so we have a lot of beautiful pictures.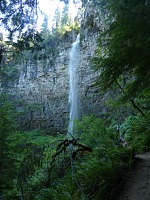 Watson Falls.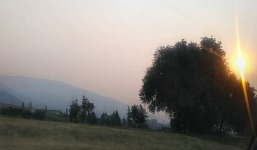 Smoke has driven us out of Jefferson State.
We had gradually worked down to interstate 5 and took it southbound. It did not take long to hit a pretty much stand-still jam. After about an hour of hopping at less than walking pace, we found an exit in Canyonville, leading to a local casino and resort. There we resolved to have a lunch/dinner and wait whether the jam would unravel. A server explained that most people from the area, including herself, were evacuated, and that the interstate was closed because it is the only access route to the wildfire, and fire trucks needed it along with rescue crews. Then she assured us that it was impossible to reach Grants Pass by a detour, for there were no roads in the mountains. After a while, we had, despite the expert advice, found one mountain road on maps in our phones, since we had earlier at the rafts noticed a sign marking a turnoff to Canyonville. As the least miserable option, we would detour around everything including Grants Pass, by way of Shady Cove. We made it there, even with a stop for ice cream, in two hours. When we rejoined interstate 5 at Medford again after having re-entered the smoke zone, we decided to give up Grants Pass (for which we would have to turn back northbound) and the whole pre-paid boat trip to Hellgate, and instead we kept going south, home. We arrived late at night, but saved extra expenses with hotel, and most likely spared Lisa an asthma attack.