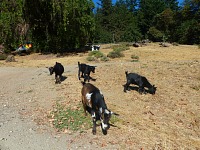 Our little herd shrunk to mere four goats.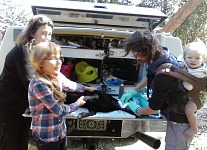 Mobile surgery.
Naturally the first place we went, after our trip, was to our goaties. They had done apparently quite well throughout the time we were gone; also, goats don't suffer much separation anxiety regarding their people, and so they behaved rather normally. Still there were more good-byes on the way. During our trip, Kerry suddenly contacted me with an inquiry about the baby goats, and when I sent her a picture of our Willy standing high on a stump, she had no chance to resist. She came to check our our little wether with her family and with a crate, and they just loaded our Wills and took him away.
I had originally thought that Willy would be the one left behind, and that I would not be able to sell a single goat (much less a male), and I would not even want to, but Kerry owns Twilight's siblings — Herman and Buttercup — and they all had just moved to a five-acre ranch, and I know they love goats. And thus I found it selfish, to deny Wills an opportunity of an easy life of a beloved kid in a huge space — and outside his mother's range. Goats tend to get rid of their offspring at a certain stage, and they would eventually extradite all direct relatives from the herd. It makes genetic sense, affecting health of the next generations, but I would dislike having any big fights in my small herd.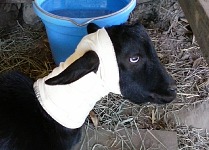 Berry looked quite strange with the bandage.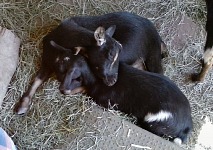 Licorice rejected Berry and cuddled only with her daughter Starburst.
Willy was departing amidst much crying, and Starburst ran after the disappearing truck, calling Wills, and it was overall a big drama. Twilight, Willy's mother, was very bad tempered for the following two days, while Kerry wrote me careful notes, how it was getting better with Willy and her other goats. Which did not fill me with optimism, and thus I kept replying that if things did not shape up, Willy can come back.
Meanwhile Rachel invited a vet to deal with a growing cyst on Berry's neck. Blackberry is Licorice's son, and his cyst appeared right about three weeks after birth. Back then, Kristin, our vet, drained it only with a syringe, but alas, the bulge had come back, and it needed attention.
Lisa wanted to participate, attended to putting Berry to sleep, and in the end about half of the roughly one-hour surgery, before she needed to step away and take a breather. I must say that a cyst the size of a golf ball did make me queasy, although it was only a subcutaneous operation without much bleeding or exposing inner organs. I had the impression that even the vet's assistant kept to the side, only Kristin consistently and carefully cut and sewed. I don't know if I ever mentioned Kristin Wallace. My vet comes from New Zealand, where students learn everything on sheep rather than dogs. Goats are therefore a piece of cake, and when I'd seen her give a shot to the feisty horned Hazel without batting an eye, she would have gained my respect even without carrying her smallest baby on her back. This has been her third child, and should I some day meet Kristin without carrying a baby, I may not recognize her. Berry's surgery, too, took place with full load.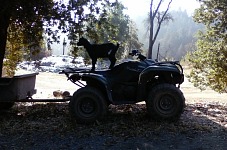 Motorized goat Starburst.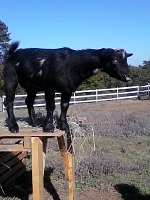 Willy in his new home.
Berry ended up with roughly ten stitches in his neck and a bandage covering his ears; Rachel and I took turns watching before he came to. I thought that it would end the drama, but no. Berry jumped up like nothing had happened, but the other goats began to reject him, hard. Sid has a theory that they took him for a zombie — they had seen him stiff and suddenly he jumps and wants to be friends. Another theory says Berry just smelled wrong (of disinfectants) and looked wrong (Berry is all black, and he suddenly sported a white band across his neck and half of his head). My theory is that he could not communicate. Goats really can't rely on much facial expressions, most signaling happens through ear positions — and Berry could not control them. In the end, I had to separate him overnight with a portable fence, so that the poor wether could stay with other goats, but without them being able to beat him up or damage the vet's needle-work.
After two days and a first re-bandage, situation had quieted down enough, and we kept the goats separated only at night, while the stable hands and camp couches were tasked to to call if it looked like a crisis. I changed the bandage again in a few days, for he had bucked much the first time, and it was all crooked. This time Berry knew that nothing horrible would happen, and it went much better. Definitive leveling of relationships between the goats ensued after a week, when we took the bandage down for good — almost immediately, which would support my theory with the ears. I even spotted Licorice feeding Berry, which she had denied him during the week before.
Meanwhile, Lisa's birthday had approached. She wished to have a pool party and "something with goats". I thought that we would take another training with Sarah in Boulder Creek, but Sarah shocked me by saying that she did not and could not have goats anymore, since during this year's crazy winter, some mold had spread over her property, which is toxic for goats — and it would take two years to get rid of it. So I tried my luck checking out whether we could go visiting baby goats we had sold — Pixel a Willy. Pixel's people were on vacation, but Kerry declared that they would be at home, and thus we went to see them.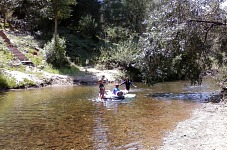 Close to finish on San Lorenzo River.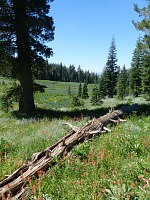 Devils Corral.
All three goats had recognized us; after all, Herman and Buttercup had spent the fall in our stable, and their memories were rather fresh. Willy even let Tom hold him in his arms for a moment; we could chat with Kerry about goats and their new home — a small ranch on a beautiful location, with a view of Mount Madonna. A small snag ensued during saying good-bye, for Willy had thought he would leave with us, and cried for a while behind a gate. It would break my heard, had I not noticed how good he's got it there — a half-acre goat run, a horse box to sleep in, plus Willy can have a little house of his own, from which he can see Herman and Buttercup, but they cannot chase him away from his feed or disturb his rest. Both older goats were in good condition and very friendly, and though Buttercup tried to berate Wills from time to time, he returns it with verve. And Willy also got a new flattering nickname from the master of the house — Mark calls him Pogi, which means "handsome" in Tagalog (Filipino language).
Naturally, summer break is not only about goats. On weekends we drove out on short trips in the vicinity, although after a people-less Wyoming, returning to our over-crowded Bay Area was rather crushing. We noticed more people on the road than there used to be, and one can practically not get anywhere without getting stuck in a traffic jam, even early in the morning. Parking turned out to be similarly complicated; for example at Point Lobos we had to walk from almost the next beach.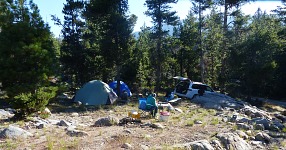 Our camping site was on a slippery slope.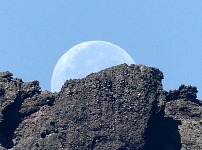 Moon over Kirkwood.
My trips with children to San Lorenzo River were somewhat more quiet. We had enticed Lisa's friend Rose with her mom Cathy, to join us on a sandy beach and splashing in the river. Kids were swimming and Cathy and I talked about many things. Then children had an idea to ride down the stream on an inner tube next time, and we got busy figuring out how to do it. A week later, we left the (heavy) tube upstream by the bridge, filled into the second car, parked it at the destination, and walked the trail up. It was not really necessary with this mild and small river, but I wanted to give the kids an example how useful it is to have an idea what awaited them in the stream — which channel is a dead end, where to avoid overhanding trees, and where they can scale the bank if necessary. In the end they pleasantly surprised me with how much energy and care, the children prepared the whole undertaking, and executed it. It may be in part because Rose is one of the few girls who are respected by Tom — because she is very different from most pubescent, giggly friends of Lisa. Rose shoots from a bow, rides a motor cart, and has interesting hobbies.
During previous summer, we had discovered summer Kirkwood, and we liked it so much that we had decided to do it again. With our winter season permits, a lift would take us up to Caples Crest, and then we can travel on our own. Plus it has the advantage of letting us sign paperwork before the ski season; this year we had asked for new pictures on kids' cards — their old ones were seven years out of date, and naturally neither one looked like in the year 2010.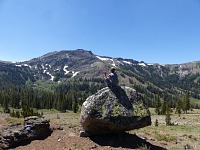 Zen.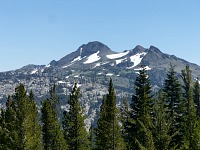 Round Top.
On Saturday, we hiked down through fully blooming Devil's Corral. This year's winter was long and everything had been delayed, thus we came at the peak of the season, and wildflowers were not only blossoming, they smelled intensely (some rather badly, according to opinions). We also thought that we met fewer mountain bikers. And those we met or passed, were all in great spirits; we greeted each other and joked on the trail. Beer and ice cream followed at the local general store, and then we drove off to seek a spot to overnight, somewhere near Blue Lakes.
We found a place next to one of forest roads — after relatively empty Kirkwood we were surprised by how many people milled in the nearby national forest and its campsites. We ate a light supper and let only a strong chill chase us away from a few rounds of card play — with sunset temperatures headed for freezing, although throughout the day short sleeve was the right attire. We trekked back in the morning, passed completely saturated parking lots in Carson Pass, which had immediately diffused our doubts whether going back to Kirkwood was a good idea. I really don't appreciate crowds in wilderness.
We let ourselves get lifted up to the ridge and found a narrow trail, this time not a biking one, following the ridge out along the boundary between the ski resort and Caples Lake. The lake is named after doctor James Caples, one of the first California settlers — but his name has Viking origins, caple in Old Norse means a horse, caples being a plural. Caples Lake is a reservoir, but built in the location of two lesser natural lakes.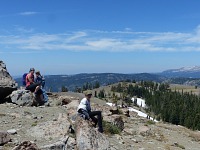 At almost nine thousand feet, we were accompanied only by nature.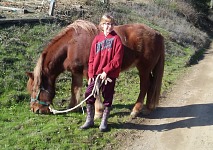 Ljufur and Lisa.
The hike and our views were wonderful, and most importantly, one could feel being in the nature, rather than in Times Square, and thus we were very happy with our choice. Our sore calves caught us by surprise. Apparently hiking, despite being done mostly on level and downhill, is not without consequences, and although we actually "cheated" having used a ski lift, we must have in the end performed unexpected feats. Or perhaps because of it — as we had not drained ourselves by struggling uphill, we had energy left to do too much hiking.
This weekend had concluded our summer break, at least so for Lisa, who was returning back to her school on Wednesday the sixteenth. Tom had a week and a half off, but even there it was necessary to start some paperwork and entry tests, and he could not carelessly loaf about. Still Lisa got an awesome present at the end of vacations — Ljufur, an Icelandic pony, had returned to the stables, on whom she used to ride, and his new owners were willing to loan him to Lisa. Ljufur is an old hand, and sometimes can be quite morose, but Lisa still loves him and immediately forgives him anything, just like she used to do with Sugie. And she is ready to take care of the little horse from A to Z, and I can sit on a bench in the background and watch it, or maybe help with things Lisa really can't handle (e.g. western saddle weighs about half of what she does). And so we hope that Ljufur would be the horse Lisa truly needs, that they would be compatible in personality — and that we would be finally able to say that Lisa has put her accident of previous year behind without any serious mental impact.